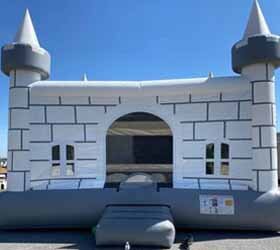 White Castle Bouncy House




$279.00

Please call to reserve this item.

White Castle Bouncy House Rental
Wedding Bouncy House Rental Specialist in Central Pa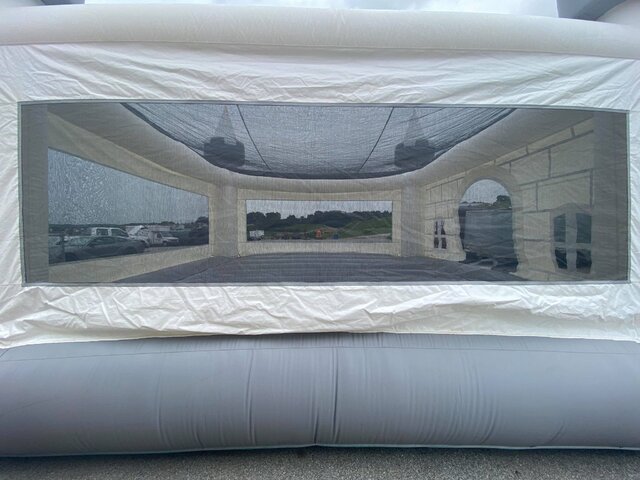 If you are looking for something larger than a standard, 15x15 moon bounce, the White Castle Bouncy House Rental may be perfect for you. This is one of our largest bounce houses for rent, measuring 20x20. Inside you will find a great big inflatable bouncing floor where kids or adults can have a great time. It's combination of white and grey colors makes this bouncy house quite classy. The castle pillars on each corner have a grey bottom with white tops. The floor inside the Inflatable Wedding Bounce House is great with white walls and very large netted windows. The front of the unit looks like castle blocks and will complete your fairytale event!
Watch the Fun and Take Pictures Too
If you don't want to bounce but want to be in on the fun, stand on the outside and watch through the grand netted windows to laugh with your friends and family and to capture the memories they are making by taking pictures! The photograph you see to the left was taken from outside the bouncy house rental through the one side window. As you can see you have clear view of the inside where jumpers will be. In fact you have a clear view all the way to the other side of the bouncing house!
White Bouncy Castle Events
This White Castle Bounce House rental is perfect for wedding celebrations and receptions. In addition to adding fun and entertainment to your wedding, this giant bouncy castle makes for some great photo opportunities of the bride, groom, and wedding party! This large, white bouncy castle is also wonderful for Baptism celebrations. If you are having a pricess-themed party this Large Castle Bounce House will be the icing on the cake to your party and will make your fairytale guest of honor feel like royalty! Let's not forget anniversary celebrations or baby showers! Events that have a large number of guests will want a larger bouncing castle so more people can have fun. The more the merrier, right? Rent a bounce house like this that has the capacity of 10 people or 1,000 pounds; whichever limit is reached first.
Booking the White Castle Bounce House is Easy with Bounce-Around
Once you have browsed around our web site and decided on what you want to rent, all you have to do is call our office staff by dialing 717-658-0986 during office hours. Our booking specialist will get the details of your party as well as your personal information and make sure your party fun is all set to arrive on time! To book with Bounce-Around you will need to provide a 25%, non-refundable deposit. This deposit will hold the rental items of your choice for your date and time. It feels good to check something off of your 'to do' list so call us today, we would love to hear from you.