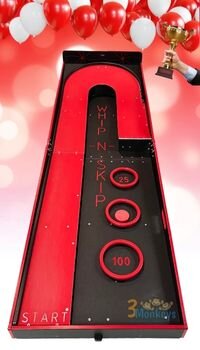 Whip-N-Skip Carnival Game
Actual Size: 23 in x 70.5 in x 10 in
Attendants: 1





$95.00

Please call to reserve this item.

Whip-N-Skip Carnival Game Rental
The Best Carnival Game Rentals in Central PA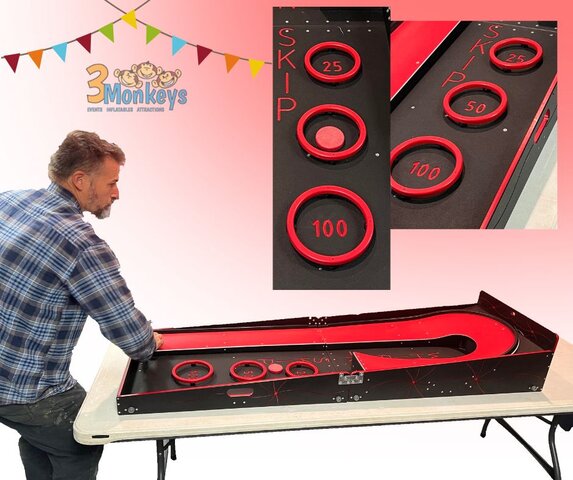 Try your hand at the Whip-N-Skip Carnival Game Rental. This game will have you trying over and over again until you succeed. The Whip-N-Skip game rental is so much fun for children and adults. As a matter of fact you are going to have adults going head to head with the children to see who can score the most points!
How to play Whip-N-Skip
A player will setup up to the tabletop game and take the round, puck into their hand. Starting at the end of the lane on the left hand side, the player will send the puck (whip it) up the lane and attempt to round the corner where the puck will then fly off the ramp and hopefully land in one of the score rings. The points awarded are 25, 50, 100, or none if you don't land the puck into one of the rings. Be careful how hard you whip the puck up the lane because it can fly right off the end of the table if you whip it too hard. And on the contrary, if you whip the puck to soft it's not going to have enough momentum to round the corner at the top of the playing board. So the real challenge with the Whip-N-Skip carnival game rental is to find just the right amount of 'oomph' so that the puck sails smooth enough that it stays on the lane and lands you some points! Will you be the high scorer in Whip-N-Skip?
What you need for this carnival game rental.
This tabletop game measures 23 in x 70.5 in x 10 in and is intended to be placed on top of a table, which is not included with this rental. We recommend at least a 6' table to sit this game on top of but you can also use an 8' table. If you need to rent a 6' table you can certainly add this to your order. No power is required for this carnival game to operate. The pucks will be included with this game rental. This carnival game requires little to no set up and will bring a ton of fun to your event.
Other Items for Rent
Not only do we have a huge selection of carnival game rentals like bullseye, troll dentist, and rattlesnake roundup, but we also have inflatable games like basketball toss, soccer shootout, ice hockey shootout, and hoverball archery, but we have everything you need to complete your party rental. These items include inflatables such as bounce house rentals, combo bouncers, obstacle courses, and extreme interactives, rock walls, bumper cars, mobile escape rooms, mobile axe throwing, photo booths, virtual reality roller coasters, inflatable games, mobile zip line rentals, tents, tables, chairs, concessions, and event catering. You can place your party rental online with our online booking system, by calling our office at 717-650-7657, or by emailing us at info@3monkeysinflatables.com. We do require a 25%, non-refundable deposit to book and hold the items for your date and times. This can be done with a credit card either online or over the phone.