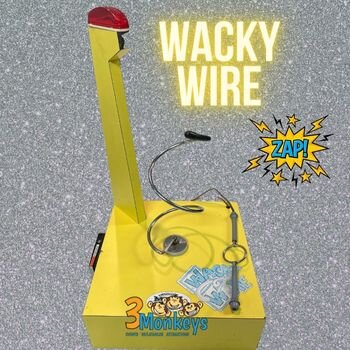 Wacky Wire Carnival Game
Outlets: 1 (110V - 20 amp circuit)
Age Group: 5-99





$129.00

Please call to reserve this item.

Wacky Wire Carnival Game Rental
Wacky Wire Carnival Games for Rent in Central PA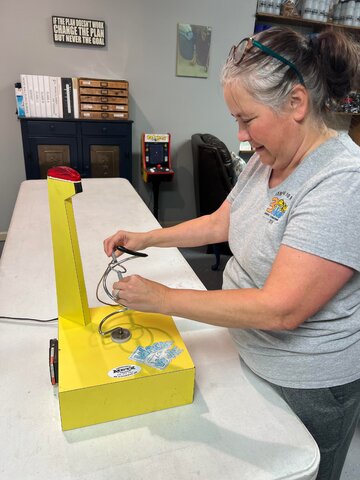 If you have never played the Wacky Wire Carnival Game Rental you are going to want to give this game a try! This carnival game rental will put you into concentration mode as you attempt to place the metal ring over the wacky, winding wire and weave your way down to the bottom of the wire with the metal ring, without metal touching metal. If you make contact with the wacky wire, you are going to know it because the game will sound an alarm and light up red. Game over, try again! And trust me, you are going to want to try again! Do you think you have what it takes to block out the noise around you and focus solely on the task at hand with steady hand and fluid movements? This wacky wire carnival game rental is going to test your patience, focus, and fine motor skills so bring your a-game.
Requirements for the Wacky Wire Rental
Wacky Wire carnival games for rent in Central PA is designed to sit on some type of tabletop where you don't have to reach up or down. You want it to sit about waist level so that players don't have to stretch to play. The wacky wire carnival game rental would be perfect on a 6-foot table rental which you can add to your party rental order. This game does require 1, standard outlet within 50' of the game location. This game comes as is, and does not require any further setup other than plugging it into an outlet. This is a plug-and-play game rental that will keep your guests busy for hours.
Renting Carnival Games and other Party Rentals
We are the number one party rental company in Central PA and Northern MD. Being in the party rental industry for over fifteen years has allowed us to create many working relationships with our customers. We have a lot of repeat customers who we have the privilege of serving year after year including schools, colleges, corporations, churches, synagogues, sports leagues, backyard customers, and more. We are constantly evolving our inventory to keep things fun and fresh for our customers. We have recently added a slew of new carnival games, inflatables, and even new folding chairs and tents (with sidewalls)! Some of the new games include Whip-N-Skip, Troll Dentist, Plinko, Monster Blast, Snake Pit, and more! Students, families, children, and adults attend events to have fun and make memories and we want to make sure we are providing you with rental options that are going to help achieve this at your event.
Delivery in Central PA and Northern MD
Our main delivery area is in Central Pa and Northern MD in cities such as Felton, Red Lion, New Freedom, Brogue, Stewartstown, Glen Rock, York, Manchester, Spring Grove, Harrisburg, Mechanicsburg, Carlisle, Lancaster, Millersville, Mohnton, Brownstown, Reading, Bel Air, Freeland, Parkton, Monkton, Baltimore, Whitehall, Sparks Glencoe, Cockeysville, Timonium, and more. Depending upon your city of delivery there will be an order minimum requirement as well as a delivery fee. The order minimum must be met, prior to any taxes or travel fees are applied to your order. If you have questions about your delivery city please call our office for additional information and details - 717-650-7657.