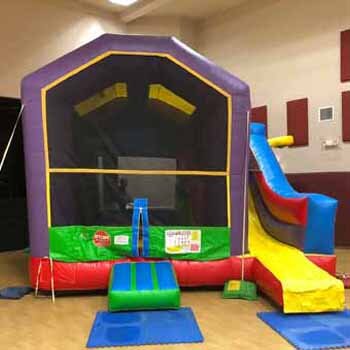 Wacky 5 in 1 Classic Combo (#41) (#43)




$279.00

Please call to reserve this item.

Wacky 5 in 1 Bounce House Combo Rental
Wacky 5 in 1 Combo

Rentals delivering to York, Harrisburg, Lancaster, and more Pennsylvania & Maryland Cities
Everyone enjoys a party, and this unit offers all kinds of playful fun for up to 6 participants. This Inflatable features a huge moonwalk area, a crawl-through area, a climbing obstacle, an exterior slide, and both an interior and exterior basketball hoop! Let 3 Monkeys provide this Wacky 5n1 Bounce House Combo Rental.
Wacky 5 in 1 Classic Combo
The 5 in 1 Classic Combo is an interesting bright combo that offers so much in one open space with a bounce area at the entrance along with basketball, popups, and crawls through along with a climbing wall to enter the slide and the slide area. The Wacky Combo also features an outside basketball net to play out of the bounce house area allowing kids to play while waiting to use the inflatable on the outside. You will need 1 power outlet for this combo rental.
Bounce Area:: The bounce area offers plenty of space to jump, bounce and soar through the air as your children enjoy the excitement of bouncing all day with their friends and family. The area is huge and offers plenty of space for up to 8 kids or 800 pounds whichever you exceed first.

Twister Game: There is a twister game featured as the bounce house floor on the jumping and bounce area within this unit so it allows for it to not only be used as a bounce house but double as a game inflatable as well.

Crawl through Climbing Obstacle and Slide: The Wacky Combo also features elements of obstacle courses with a climbing obstacle wall and slide area that will get the kids excited to climb high and slide down the exterior slide. This offers a 3rd option for use on just this one inflatable.

Interior & Exterior Basketball Hoop: Basketball games are easy to play in this indoor bounce area with a well-positioned basketball game that can take place which makes this 4-time fun-in-one combo inflatable play unit. The 5th option of an external basketball hoop on the outside allowing those waiting to get in on the fun inside to still enjoy a round of basketball on the outside of the inflatable combo rental. This is great fun for adults to take part in as well!
I want to rent the Wacky 5in1 Combo for my party!
Great! We suggest you can do one of 3 things. You can book the Wacky Combo rental online by adding this to the cart and filling out the information along with a 25% deposit with the remainder due the day of the rental, or you can call us at 717-650-7657, or you can email us at info@3monkeysinflatables.com. If you have questions however give us a call before placing your order & we can help answer any questions for you. Also, don't forget that we rent carnival games, giant games, Table & Chair Rentals, Tent Rentals, Generator Rentals, Water Slide Rentals, Novelty Rentals, and much more!
Frequently Asked Questions
Q: Why should I trust 3 Monkeys Inflatables for my Wacky Combo Bounce Rental?
A: 3 Monkeys Inflatables has been in the party rental industry for over 13+ years with a proven track record. Our inventory and Wacky Combo Bouncer Rentals are regulated by the Department of Agriculture Ride Safety Division for safety and standards. 3 Monkeys Inflatables has 3 State Ride Inspectors on staff who are heavily involved in creating and executing our Ride Safety Training with our staff. We continually evaluate the safety standards by the state paired with our own safety standards parent-tested & add continuing education for our team. We were the first company in our area to offer Wacky Combo Bouncer Rentals, and continue to be the only company in the area that is a trusted manufacturer and industry repair company.

Our Wacky Combo Bouncer Inflatables and Party Rental Equipment are well maintained and are cleaned and sanitized. We are fully insured and meet/exceed all safety inspections daily. 3 Monkeys Inflatables is family-owned and operated. The business is part of our family and has begun business in 2007 when our kids were small. In 2020 both of our oldest sons became full-time in the business, with the youngest son joining the business part-time as well.

Our rentals are for 8 hours. We offer up to 8 hours for one low price We treat all of our customers like family and old friends. They are important to our business and we love making sure their events highlight the fun and easy rental with lots of love and laughter and the only focus is the actual celebration!
Q: Do I need to supply my own Power for the Wacky Combo?
A: Yes, all of our Inflatable rentals do come with a blower to power the inflatable combo rentals, however, you will need to supply the power source needed for the rental. The item descriptions in each item will list what type of power source you will need available. Please contact our office we do have rental hoses that you can use if you happen to not have a need for a long water hose. Our office number is 717-650-7657 or 410-581-5867.
Delivery Area
We deliver to Central PA and Northern Maryland cities like Lancaster, York, Harrisburg, Hershey, Gettysburg, Baltimore, Reading, Owings Mills, Hanover, Shrewsbury, Dallastown, Lititz, and many more!
Requirements:
Occupancy: 6 individuals or 900 lbs. (150 lbs. max per participant)
Dimensions: 20' L x 16' W x 13' H
Outlets: 1 Standard 110-volt GFCI outlet within 100 feet of the unit. Generator Rentals are available.
Attendants/Monitors: This item requires (1) the Attendant to stay with the unit while in use. You may use your own attendant, or book an attendant with us here. Read more about attendants here.
Setup: Please specify when you book this item if you will be setting up Indoors or Outdoors. If outdoors we would need to know specifically if it will be on grass or asphalt a minimum of 5 days prior to your booking. All anchors need to be secured using a spike or sandbag according to the manufacturer's guidelines. We prefer to use ground stakes when possible, if this is not an option we will need to anchor using sandbags.
Setup Location:
1. Your setup location needs to be free of rocks, pet waste, sharp objects, or any other hazards.
2. We cannot set up under any utility lines and must have a clearance of 5 feet in all directions away from any obstacles.
3. Please make sure you clear a spot for us to park & unload the equipment as close to the location as possible. If your parking is further than 75 feet please notify our office or put it in the notes portion of your booking.
Includes:
Professional setup/tear down.
We are registered with the Dept of Pennsylvania/Maryland State Amusement Industry
We have Liability Insurance
Pre and Post Event Cleaning, Sanitizing, and Inspection
Staking and/or Sandbagging
Tarping (not indoors as it becomes a safety concern)
Extension Cords (we bring out the extensions needed to get electricity to the spot you are setting up in) Keep in mind we can only go 100 ft max.
Safety Training