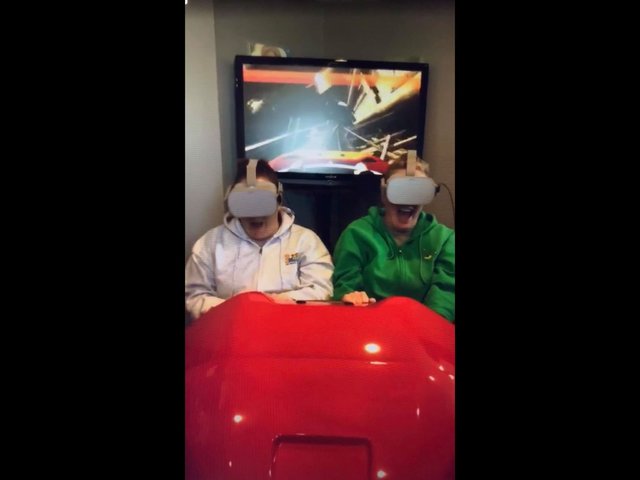 VR Roller Coaster Simulator




$1,000.00

Please call to reserve this item.

VR Roller Coaster Simulator Rental
3 Monkeys Arcade Rentals delivering to York, Harrisburg, Lancaster, Hershey, Carlisle, Baltimore, Reading, Camp Hill, Wyomissing, Towson, Owings Mills, and more Pennsylvania & Maryland Cities
3 Monkeys offers VR Roller Coaster Simulators that allow for 2 riders to experience the thrill of over 25 different roller coaster rides that will be perfect for toddler ages, school age, high school to college age and the biggest thrill seekers as well.
What is Virtual Reality?
Virtual Reality (VR) is the use of computer technology to create a simulated environment that is realistic to the user. Unlike traditional user interfaces, VR places the user inside the ride or experience, like our roller coaster simulator. Instead of viewing a screen in front of them, users are put into the scenario to interact with 3D worlds by use of the VR goggles. By simulating as many senses as possible, such as vision, hearing, touch, even smell, the computer is transformed into a gatekeeper to this fake, but realistic world and/or experience. The experience is so realistic that users will find it hard to imagine they are not actually within the scenario they are living out, and some may even experience car sickness feelings. All around you will be a different scenery and experience for each second of the ride.
Roller Coaster Experiences
There is so many coaster programs to choose from that will customize the experience to the rider. The VR Coaster is a complete virtual reality roller coaster simulator. With amazing visual scenarios, vibration and wind systems, the VR Coaster will take you on a thrill ride adventure! It's like a theme park with so many different roller coaster choices to choose from for your next event or party. What works best is if the organization/individual renting chooses 4-6 programs that they will like to keep your line moving and participants able to spend more time in the seats then wasting time looking through so many different ride options. This VR simulator feels so real - and will have you gasping as you go around a turn or turn up on a track that might be breaking before your eyes!
Our System Specs!
The coaster is designed with advanced vibration capabilities offering safe, low power, immersive ride effects. The variable-speed wind system is matched perfectly to each ride scenario bringing exceptional realism to the experience. Adventures, escapes, and edge-of-your-coaster-seat thrills await in each exciting and beautifully crafted ride scenario.

Dimensions: 47.2 W x 37.3 H x 66.8 L
Standard outlets (2)
Up to 3 hr rental with unlimited rides
Internet connection required
Check out these experiences!
Experience the thrill on these 2-5 minute rides.














More than 25+ Scenerio's to choose from with updates still coming!