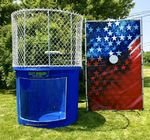 USA Dunk Tank




$200.00

Please call to reserve this item.

USA Dunk Tank Rental York Pennsylvania Area
3 Monkeys Inflatables is your USA Dunk Tank Rental Specialist in Harrisburg, Lancaster, Hershey, Reading, Baltimore, Dallastown, Hanover, and Camp Hill area.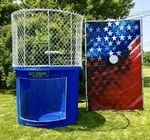 Perfect for any type of event!
Our dunk tanks are often rented for a variety of types of events. From church fundraisers, bridal and baby showers (where you get to dunk the Groom or Dad to be), maydays at schools, park days, corporate picnics, camps, festivals, baseball opening day celebrations, or fundraising at charity events, you can use the dunk tanks for just about any type of event you can think of! Dunk tanks are also commonly rented for use at carnivals. Sometimes the dunk tank rentals can even be your leading money generator.
We offer a great all-American-themed dunk tank that pairs well with all our all-American-themed baseball meltdown interactive games, known as the Grand Slammer. The Grand Slammer Meltdown for rent offers a cool mechanical ride that is as much fun to watch as it is to play! The field of play is designed to look like a baseball field and there is a giant baseball bat that rotates during the game of play. Players who are standing on a platform must decide to jump or duck as the bat comes their way. The last player standing, who has not fallen off their pedestal is the winner! The Grand Slammer is quite the hit at college events, elementary, middle or high school events, backyard parties, corporate family picnics, and more!
USA Themed Party
The USA theme is perfect for any type of party or event you are hosting in York Pennsylvania, or the surrounding cities. It is perfect for a Fourth of July celebration, Memorial Day Picnic, celebrating a military member or veteran, or just about anything else patriotic. It fits great with a red, white & blue, and stars & stripes theme and is perfect for occasions and budgets! In addition to our USA Dunk Tank, we have the USA-themed banner which can be used on the Modular Bounce House or the Modular Bounce and Slide Combo. This is quite the popular bouncy house rental for 4th of July in particular, so don't wait to put in your inflatable reservation.
Specs
500-gallon Polyethylene Tank Vinyl Coated Steel Protective Cage High Density, UV Resistant Seat
250-pound weight capacity
Requirements:
You will need a water hose that is connected to a water source that reaches the area to fill up the Dunk Tank. (On average it will typically take up to 45 min to fill with a moderate flow hose that is about 25 feet in length).

The attendant needs to be over 18 years of age.

Participants who are seated on the dunk tank seat MUST be over 18 years of age.

We do not allow non-swimmers to participate in sitting on the dunk tank seat.

200 lb weight capacity

At the completion of your event, you are required to drain all of the water from the dunk tank.