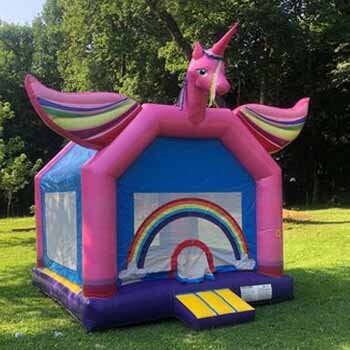 Unicorn Bouncer




$249.00

Please call to reserve this item.

Unicorn Bouncer Rental
Bounce-Around Delivers to York, Lancaster, Lititz, Harrisburg, and all of Central PA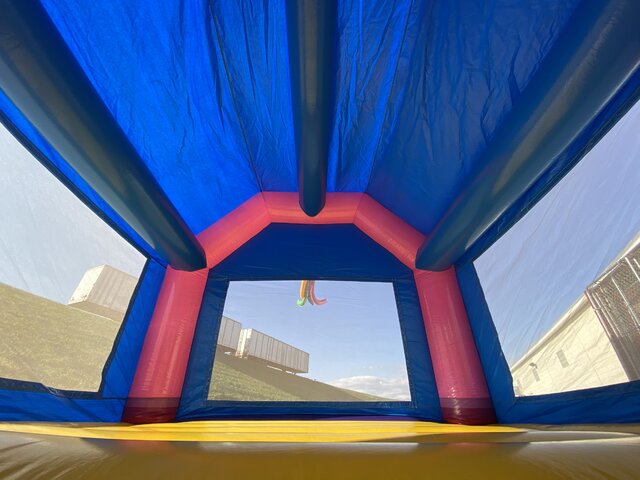 About the Unicorn Bouncer Rental
This Unicorn Bouncy House is every little girl's dream come true. Rainbows, unicorns, and pink, sparkly vinyl! It is hard to see the true beauty of this unit in pictures, but the pink vinyl on this inflatable bounce house sparkles, glistens, and gleams! The entrance is adorned with a rainbow above it and the unicorn head sits at the top, center with its rainbow wings spread out wide! There are ginormous, netted windows so that you can watch the children jump and play. Children will climb in and bounce for hours!
The picture seen to the left was taken from the entrance of the Unicorn Bounce House for rent and gives you an idea of spacious the bouncing area is as well as the large size of the netted windows on both the sides and the back of the inflatable party rental.
Other Inflatable Bouncy Houses for Rent
In addition to the Unicorn Bounce we have other themed, inflatable bounce house rental options that include Jungle, Batman, Superman, Dr. Seuss, Holiday, Dinosaur, Pirates, and Disney Princesses to name a few. If you are looking for a regular, non-themed bounce house choose from our castle bounce, hot air balloon bouncer, york bounce house, or even our large, 20x15 bounce house!
How to Rent the Unicorn Bouncer for Your Party or Event
If you think your child would just love this Unincorn Moonbounce at their party give one of our booking specialists a call today at 717-658-0986. The booking specialist will collect your personal information such as your name, telephone number, email address, delivery, and event addresses along with the details of your event. In order to book this bouncy castle for your event we will collect a 25%, non-refundable, credit card deposit at the time of booking. You can then pay the remaining balance any time up until the time our professional setup crew delivers the fun!