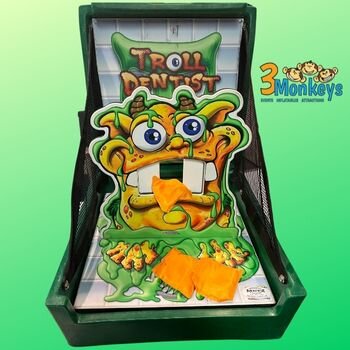 Troll Dentist Carnival Game
Outlets: None
Attendants: 1





$90.00

Please call to reserve this item.

Troll Dentist Carnival Game Rental
Tabletop Carnival Game Rentals in Central Pa and Northern Md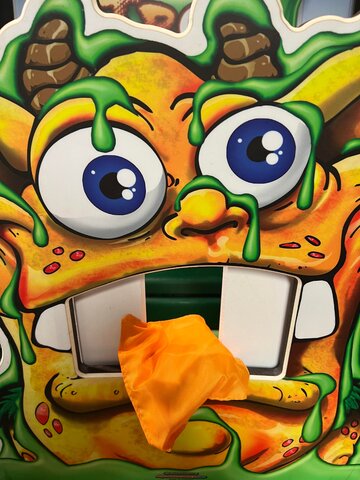 The Troll Dentist Carnival Game Rental puts a fun, silly twist on a traditional bean bag toss carnival game. This is a very easy setup, carnival bin game that takes up minimal space at your event, yet this game can be a great filler for empty space. This carnival game for rent sits on top of a table and will make a great addition to your party or event. The best part about Troll Dentist Carnival Game Rental is that it can be played by both children and adults.
How to Play Troll Dentist
Participants will step up to play Troll Dentist Carnival Game Rental and be given three bean bags, which is three chances to knock the teeth down on this grimey, slime covered troll. The game begins with all three teeth placed in the upright position. Each tooth is on a hinge and has a magnet at the top to keep it in place. Players will take their aim and toss the bean bags, one at a time, at the troll's mouth to see if he can knock down a tooth! The ultimate goal is to leave this troll toothless by knocking down all three teeth with all three beanbags!
If you are doing prize winners at your event, you can set the prize goal to be whatever you would like. Maybe you want to hand out a prize if they knock down even one tooth. Or perhaps they need to knock down all three to earn the prize. The great thing about this carnival game is that you get to make up the rules that best fit your event.
What does this game rental require?
The Troll Dentist beanbag toss game does not require much at all on your end. No electric is needed for this game. You simply need a tabletop or counter for us to place it on, we will set it up, and voila - it's ready to play! If you are handing out prizes, you will need to supply the prizes for game winners. You also will need an attendant to monitor the use of the game at all times to ensure it is being played properly and handled appropriately.
Other Carnival Game Rentals
In addition to the Troll Dentist carnival game for rent, we have a slew of other carnival game rentals to choose from as well. Check out some of our newer additions like Plinko, Monster Blast, Bottles Up, Alien Pinball, Wacky Wire, and Whip N Skip! Other popular games to add to your event are our inflatable games like skeeball, qb blitz football toss, basketball toss, hoverball archery, hockey shootout, soccer shootout, and our newest 4 in 1 inflatable carnival game for rent. Carnival games are the perfect addition to events, for those who may not be interested in or can't play on the inflatables. When you want a little something for everyone, carnival games are perfect add-ons! Carnival game rentals are also great space fillers if you have some empty space at your event that needs an activity and filled up.
How to Rent Carnival Games like the Troll Dentist
We have a very easy to use, online booking system with a live 24/7 calendar that will show you availability. Simply add the items you wish to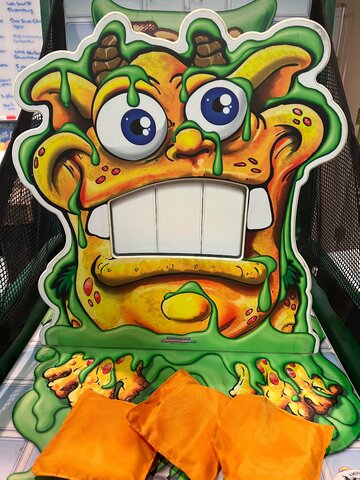 rent, to your cart, and proceed through our online checkout process. You will need to enter your personal information like your name, cell phone, email address, and billing address. Then we will need the party details such as the date, start time, end time, and delivery addrress. Once you go through the checkout process you will be asked to place your 25%, non-refundable deposit, to book the items for your date and time. The rest of the balance is due any time up until the time of delivery.
Delivery Fees and Order Minimums
Each city does have an order minimum requirement as well as a delivery fee based upon your distance from our physical location in Felton, PA. The order minimum requirement must be met prior to any taxes or travel fees. For example, if your order minimum is $319.00 for your city, the subtotal of the cart must reach $319.00 in order for you to be allowed to check out. If you get to the final screen and you do not meet the order minimum the system will automatically calculate the 'order minimum fee' and add it on to allow for checkout. If you would prefer to place your order with one of our customer service specialists please call our office, Monday through Friday, 9 a.m. until 5 p.m. at 717-650-7657.
Troll Dentist Cities of Delivery
We deliver the Troll Dentist Carnival Game to cities in Central PA and Northern MD. Some of the cities we frequently deliver carnival games and other party rental items to include York, Red Lion, Felton, Brogue, Harrisburg, Carlisle, Mechanicsburg, Baltimore, Bel Air, White Hall, Freeland, Cockeysville, Sparks Glencoe, and more!