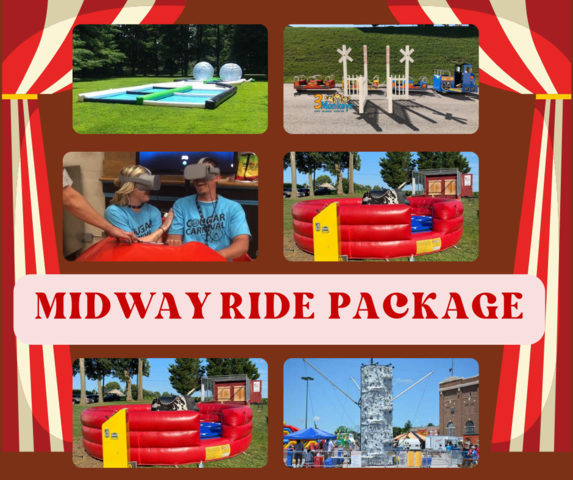 The Midway Package




$11,500.00

Please call to reserve this item.

THE MIDWAY PACKAGE CENTRAL PA

The Midway Amusement Ride Complete Package
The Midway Package is an extreme value package filled with favorites for an amazing fair, festival, carnival, or midway-type event. The Portable Rock Climbing Wall, paired with our 2-station Euro Trampoline Bungee is sure to be a huge hit with long lines all evening long. The Rock walls feature 4 climbing stations with an attendant to get them into their climbing harnesses and strapped into the rock wall lane with the auto-belay technology that allows users to climb as high as they can go without worrying about falling, they can simply push off the wall and be transported slowly down the wall to the descent. It's with ease that the auto-belay system is state of the art in terms of safety and allows riders to feel comfortable climbing this large 24-foot rock wall. The Euro Trampoline Bungee Carnival Ride gets 2 jumpers at a time jumping and flying through the air on the inflatable trampoline mat, able to do flips and tricks throughout their time on the trampolines. The Mechanical Bull Mechanical Rental is a favorite for all carnival participants to test their skills and show off to their friends, family, and excited onlookers. The participants will compete who can stay on the Bull ride the longest! The attendant is highly trained by both manufacture training and completion certificate and by company training. The Bull Rental is perfect for young kids through adults. The 2 Lane Portable Axe Throwing Amusement Rental is perfect to draw in the older crowds from teens, to adults with excitement as this is a new trending item that is very popular with the older age groups. You will find we supply an axpert for this rental that will go over a safety briefing with each participant and allow 2 throwers in each of their lanes at one time. The portable axe throw is completely enclosed from the ground to overhead in a safe portable axe throwing cage that allows for fun without worrying about safety! Bumper Car Amusement Rides are a top item you will want for your upcoming Midway event. The bumper cars allow for 4 riders in a secure inflatable arena that the bumper cars ride around in, and with a bumper car attendant watching the action with the ability to stop all cars at once safety is not a concern, it's just fun only! The VR roller coaster simulator is a new concept in Carnival Rides for Carnivals and Festivals, that is making a huge splash! Imagine sitting in a seat with your bestie, and enjoying the roller coaster without worrying you are going to fall. Do we often get asked how real this VR Coaster feels? Pretty darn real! We have had screams and hollers, and adults even have some motion sickness for those that frequently are suspectable to this. You will feel wind and movement on this ride that will honestly make you feel like you are on the real thing. 2 Participants at a time, and our VR Ride Operator will help you choose from 32 different roller coasters experience. The twin spin hard carnival ride is a 4-person spinning chair machine powered by the participants who pump the handles in order to make the ride spin faster and faster. It's fun and exhilarating for those who love spinning ride rentals! The next up is our Air Brush Body Art painter who surprises guests with a quick airbrush spray with a template of their choice. We typically use one color to keep lines moving fast! The Electric Trackless Train is a popular fair, festival, block party, and more event because we can ride the trackless train around the event or through the event in order to showcase different rides and showcase the train rental. Complete with a train conductor and music if you wish. The Zorb hampster balls track and zorbs are a popular trending item for 3 Monkeys with guests stepping into a PVC ball with an inner layer and racing against the opponent in the next ball over down the lane and back! Lastly, we have our Temple Ruins Escape Room Rental that is sure to be perplexing, fun, and get everyone's wheels spinning as they try to solve the mystery of the room. We can fit up to 8 guests per group at a time, with 4-5 guests being the most ideal group size. Northern Maryland and Central Pennsylvania are the popular delivery areas for our customers.
What's included in this package?
Rock Climbing Wall

Euro Bungee Trampoline

Mechanical Bull Rental

Portable Axe Throwing - 2 Lanes

Bumper Car Rentals with Arena

VR Roller Coaster Simulator

Twin Spin Carnival Rental

Air Brush Body Artist

Electric Trackless Train

Zorb Hampster Ball Rentals

Temple Ruins Escape Room Rental

Attendants for all items - Eleven (11) in total

4-hour event time frame (any longer would need to be added prior to the event time)

Setup of all items

Tear down all items
What am I responsible for when renting this package?
√ All Event Power within 100ft of an outlet, without exceeding 15 amps per circuit. (if the unit needs to be further than 100ft, you will be required to add a generator for those specific pieces.√ Being Available for seutp the day of the event, at least 3-4 hours before the event times.
√. This is setup on Grass for all items. Grass setup is included in the above price. If you need setup for all or some of the units, you would need to contact the office at least 7 days prior, and change the setup to asphalt and pay for the remaining balance for the sandbag charge.