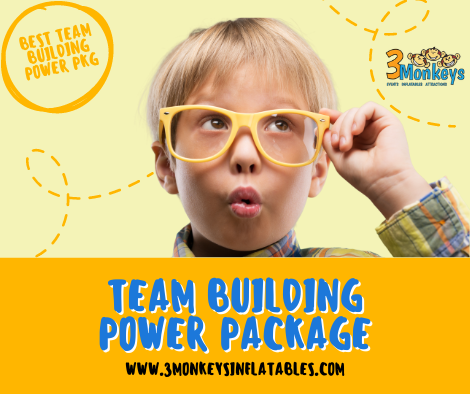 Team Building Star Package




$7,050.00

Please call to reserve this item.

Team Building Star Package

Best Team Building Packages in Central PA and Northern MD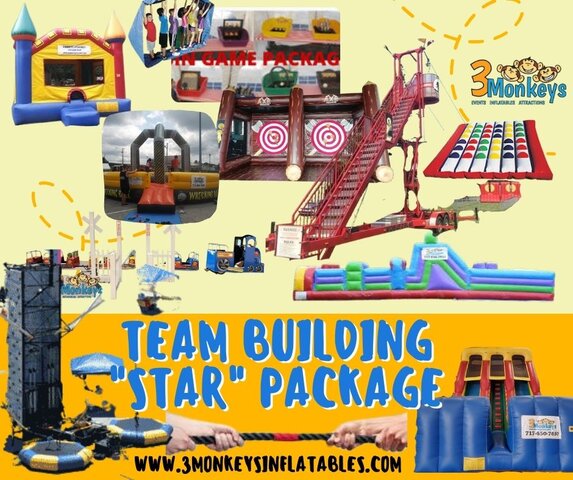 Are you searching for a great power team-building package for your next team-building corporate or group event? 3 Monkeys Inflatables has done the work for you with this amazing Power Package complete with a Castle Bounce House Rental, 40ft Obstacle Course that is a 2-lane obstacle that allows participants to race against each other through the inflatable obstacle course. Next up, is our 18ft Double Lane Dry Slide that has up to 2 players at a timed race down the slide as fast as they can go. This is fun for adults and kids! The bin game package is perfect to have 8 different carnival bin games to walk around and get that carnival-type feel where you can shoot baskets, take a turn at knocking the cute ducks down, and see if you can get 3 in a row on our tic tac toe game and more. Did we mention how cute they are featured with the carnival red and white themed table covers and come with 4 tables to feature the bin carnival games on? The electric trackless train rental for up to 2 hrs is great for outdoor or indoor train rentals, where we can drive the kids/adults around the event location bringing that really cool big event feel to your event with the coolest trackless train rental available! How about that Wrecking Ball Inflatable Game for rent?! This is a large open arena with 4 pedestals that allow for up to 4 players at at time. They will push the 'wrecking ball' that hangs in the center of the four pedestals to try to knock their opponents off. What a great game to add to a team building event!?! What team-building event is not complete without the Twister Inflatable Game rental perfect for a team event? Team Building Mats are great to race against one another and see who can win the race -but wait it's not that easy! You have to work together as a team in order to move the entire mat along to the winner's circle! Tug of war is another perfect addition to your team-building events that will encourage your team competition and encourage good communication and leadership qualities. We also have the GIANT ROCK CLIMBING WALL and EURO BUNGEE TRAMPOLINE RENTAL which is 6 stations that allow for 2 jumpers, and 4 climbers all at once, this comes with attendants to operate the rock wall/euro bungee trampoline. We also added a Huge 100ft Zip Line Rental that comes with operators as well. Lastly, the Inflatable axe-throwing double lane is perfect competitive fun for your entire team that will enjoy and is competitive.
Your team is the star of our Elite Star Team Building Package
With our large team building pieces like our competitive rock climbing walls, Zip Line Course, Race Inflatable Obstacle Courses, Tug of War Ropes for team challenges, Games, and lots of inflatables to play with/on there is no doubt this our biggest Team Building Package built yet, and we can easily add on other pieces to bring it from the Star Package to Elite status! Think about our Big Red Baller Rentals, if you remember to wipe out opponents trying to stick to the balls to get across all 4 balls without wiping them out...not as easy as it looks. Challenge your team members when you add that on. We also have a Mechanical Bull where you can have Bull Challenges as we clock your time on how long you can stay on the bull! Our Twin Spin will turn some participants to puddy and others with super hard stomachs into champions! We also have indoor/outdoor darts, and lawn games to test intelligence skills like chess and checkers, we even have backgammon and words with friends! Feel free to call our office if you want to add to this package and pull it from the Star status to Epic status.
Get in touch with our Team Building Booking Team Now
Our team is waiting to hear from you. Simply call them at 717-650-7657 or email them at info@3monkeysinflatables.com so we can get everything set up for your rental period. Just supply us with the details on the party date/times, along with your confirmation of what items you may want, along with the location of the event, and we will send you a super quick quote to make things easy for you to get set up.