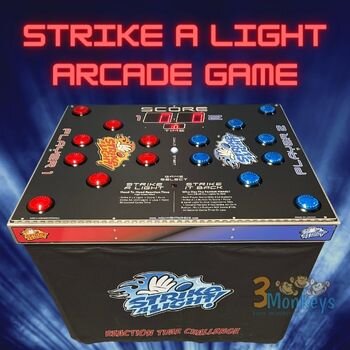 Strike A Light Arcade Game
Actual Size: 3' L x 4' W x 3' H
Outlets: 1 (110V - 20 amp circuit)
Attendants: 1





$279.00

Please call to reserve this item.

Strike A Light Arcade Game Rental
Strike A Light Portable Arcade Game Rental in Central PA
About Srike A Light Arcade Game
Choose Red or Blue and go head to head with your opponent when you play the Strike A Light Arcade Game Rental at your next party or event. This game requires very little setup and one standard outlet to plug into. See how fast your reaction time is when you play one of the two different game modes offered by this portable arcade game rental. Arcade game rentals are perfect for school event rentals, college events, church events, corporate parties, holiday parties, birthday parties, minithon rentals, and more.
Choose From Two Arcade Game Modes
Play the 'Strike A Light' game mode against your opponent to see who can turn off the most lights. At random, the lights will light up and you have to tap your color as they light up to turn them off. Rack up points by tapping and turning off the lights; earn one point for each light you turn off. But be careful! You only have 30 seconds and you don't want to accidentally tap an unlit light because it will deduct a point from your score. Test your speed with Strike A Light!
Play the 'Strike it Back' mode for a little bit of an extra challenge. Each participant begins with 4 lit lights. Strike one of the lit buttons to score one point and send a light over to your opponents side. If you tap an unlit button there will be a 1 second penalty and no lit buttons will score if you hit. This game mode lasts 30 seconds or less depending upon the play of the game. Both game modes require attention, concentration, speed, and agility. You want to be fast and confident but not overzealous or your score will go down!
How to Rent Strike A Light
If you would like to add Strike A Light to your party rental and are placing an order online, simply click 'add to cart'. If you like this arcade style, light pad game, check out our Interactive Play System Cones and our Battle Dome Interacrtive Arena too! Or add some of our more traditional carnival games for rent. Once you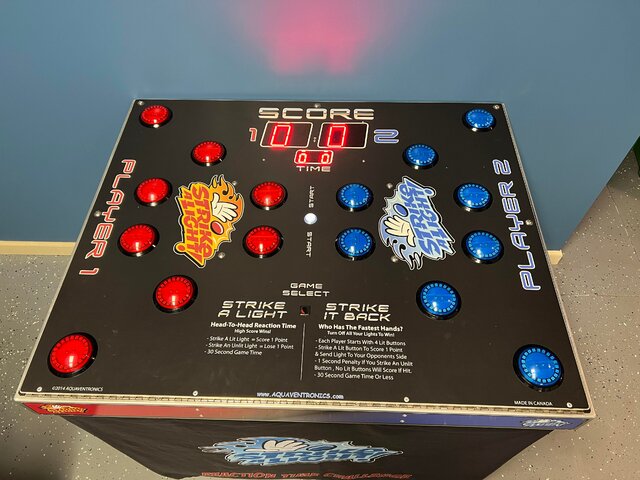 place all of the items you would like to rent in your cart, you will need to enter your city and zip code for delivery and proceed through the online checkout process. You will be prompted to enter your name, email address, billing address, and mobile number. You will then need to enter your party details such as the delivery address, whether there is power available, and what the setup surface is. You also need to choose which type of venue you are having your event at. We do require extreme flexibility for delivery and pick up purposes. This means we may need to deliver 1-2 days ahead of time and/or pick up 1-2 days after your event. If this is the case and we need to do this for scheduling purposes you will not be charged anything additional. If you do not have flexibility and are having your event at a public location where the items need to be delivered and picked up in the same day, you will be assessed a $100.00 fee. If you have further questions on this matter or want to make sure your order has the correct notation please contact our office staff at 717-650-7657.
Delivery Cities
Our main delivery cities in Central PA and Northern MD are Felton, York, Red Lion, Brogue, Stewartstown, Glen Rock, New Freedom, Manchester, Spring Grove, Lancaster, Manheim, Lititz, Lebanon, Harrisburg, Mechanicsburg, Freeland, Whitehall, Bel Air, Cockeysville, Baltimore, Owings Mills, Columbia, and Timonium to name a few. If you do not see your city listed above please contact our office to inquire about the delivery fee and order mininmum to your city.