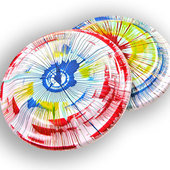 Spin Art Frisbee 300 count with paints/machine




$800.00

Please call to reserve this item.

Spin Art Frisbee Rentals
3 Monkeys Party & Event Rentals delivering to York, Harrisburg, Lancaster, Carlisle, Baltimore, Reading, Camp Hill, Wyomissing, Towson, Owings Mills & more Pennsylvania and Maryland Cities
Spin Art Frisbee's are a popular craft for school events, college, and community events.
What is Frisbee Spin Art?
Frisbee Spin Art is a plain white frisbee that is put into a spin art machine with a frisbee attachment that allows the frisbee to spin around in the machine while you add a drop of paint in any combination or amount you would like to create a unique and interesting design. Participants get to create their own frisbee art which is a huge hit for participants and something they will compare and show proudly to other participants. It's a great event rental and engages participants easily! The Spin Art Frisbee Novelty Craft comes with 300 Frisbees, paint, and the Spin Art Machine with the Frisbee attachment. All you need is to have tables/chairs to have your crafters be able to do their craft. We can even add glitter to really glam up your spin art frisbee rental for a minimal price.
How to book the Spin Art Novelty Craft Rental
Booking is as easy as going onto our website and adding the rental items you are interested in to a cart and following the directions to check out. The online booking system is a real-time 24/7, 365 days a week booking system that allows you to book any time of day or night. If you have questions and want to talk to someone beforehand you can get in touch with us at the office numbers 717-650-7657 | 410-581-5867 or email us directly at info@3monkeysinflatables.com. Our staff is excited about talking to you about your upcoming event rental. Thank you for considering 3 Monkeys Inflatables