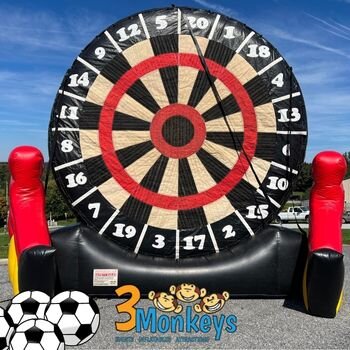 Soccer Darts
Actual Size: 15' x 10' x 20
Outlets: 1 outlet





$260.00

Please call to reserve this item.

Soccer Darts Inflatable Game Rental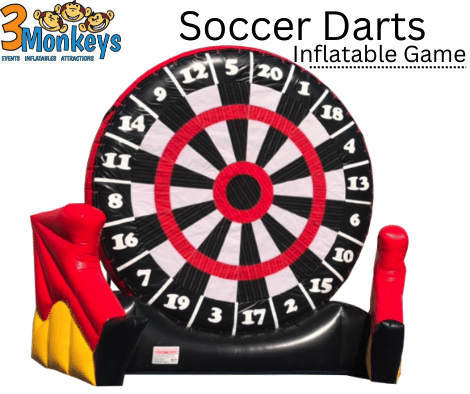 The Soccer Dart Inflatable Game Rental includes 2 soccer balls and a blower for the inflatable target. Soccer Dart Inflatable Game Rental is the hottest sporting craze and is a ton of fun for all of your parties, and get-togethers. Commonly referred to as Soccer Darts, Velcro Soccer Darts, or Foot Darts is a huge inflatable velcro target that you will kick to get the bulls-eye. Call now to book this soccer giant game rental with 3 Monkeys at 717-650-7657. This is an excellent soccer-themed and dart-themed giant velcro target that includes 2 soccer balls and is super popular for events of all ages, including even adults!
Hit the bullseye with Soccer Darts
The Giant Soccer Dart Inflatable Game Rental is huge measuring 15ft L x 10ft W x 20ft H and requires only 1 outlet to power the inflatable target portion of the game. The game does require one adult volunteer to supervise the play and can be used indoors/outdoors. Check out this Giant Soccer Game Rental along with some of the other Big Game Rentals available to bundle as Giant Game Packages, or choose a few to create a larger event look!
Soccer Darts or commonly known also as Soccer Ball is amongst the latest sports crazes where football, darts, and soccer are merged together. This game is perfectly suited for children as well as adults. The dartboard area has a self-sticking surface, so when you kick the fuzzy soccer balls at the oversized velcro dart board, it will stick to the dart board, and you will be ever to compete on who can get a bullseye. The Soccer Darts Inflatable Game for rent is perfect for individuals looking to get more accurate skills for soccer play, or simply for families and workplaces to have some team sports, or fun for a party in your backyard, schools, community festivals, corporate parties, building workplace activities and so much more! Bring the social media superstar to your next party or event rental! Compete for the best score, with this stable inflatable Giant Soccer Darts Game Rental. Most customers are surprised to find out how interactive inflatable soccer velcro darts are, and how much fun it is to watch and play along and create competitions with the velcro dart board and velcro soccer balls. The look of velcro dart board looks similar to a dart board was made that way to resemble a similar interactive play of darts, but with a soccer twist to it. Keep in mind this Giant Game rental can be used as an outdoor inflatable soccer darts game or indoor inflatable soccer darts, as long as you have the space and room for it. We suggest you have about 5 feet all the way around the area s 20x15 area for the inflatable soccer darts, with an outlet nearby to plug into (preferably behind the inflatable soccer dart unit so it's not a tripping hazard) We typically run about a 50-foot cord from the blower to the outlet if needed, otherwise if it's up against a wall and we can plug and play the soccer darts that is the most ideal. You would also want to place it with a wall behind it and not in the middle of a room because you are going to get some out spray of balls for those who are not strategically aiming to hit the bullseye. ;)
See a Demonstration of How Soccer Darts is Played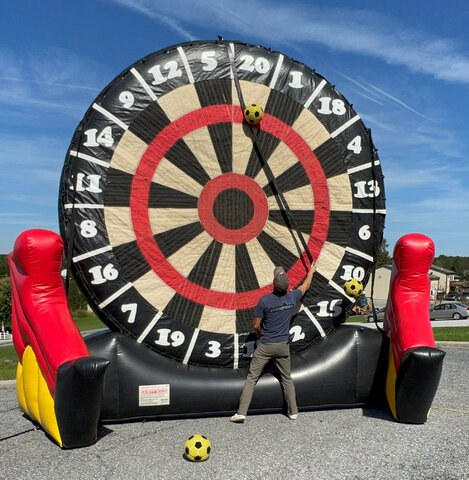 How to Remove the Soccer Balls from the Playing Board
In case you were wondering how to get the balls down once they are kicked and stuck to the velcro, see the picture to the right where this process is being demonstrated. There is a tether connected to the top of the unit that clips to the front when not in use. Once players are done kicking the balls onto the inflatable target, the attendant will unclip the tether and place it against the target, behind the balls, and will swipe it across the target. The idea is to have the tether between the soccer balls and the target, which will interrupt the velcro connection and free the soccer balls. We do ask that this removal process be done by the attendant only, not the soccer game participants. We would not want a child to be tempted to hang on the tether and cause it to rip and damage the unit which would then make you liable for repairs or replacement. This is a rather easy process but does take a minute or two between each participant.

The soccer shoot-out Inflatable Game is a perfect addition to those soccer-themed parties and events with opportunities to see if you can score different goals. Choose to make an entire soccer package with these fun extras to add to your cart before you book.
These amongst other Sports Party Package rentals and Game Rentals are perfect to make a big splash in your party footprint.
Delivery Cities in Pennsylvania
We deliver the inflatable soccer darts to many different cities throughout Central PA as our primary area. Including popular cities of York, Harrisburg, Lancaster, Felton, Brogue, Dallastown, Dover, Hershey, Wrightsville, Hallam, New Oxford, Gettsyburg, Dillsburg, Reading, Lititz, Ephrata, Manheim, Camp Hill, Mechanicsburg, Hanover, and many more found on our Delivery Area Page. We are able to offer Large Event Delivery to further areas like DC, West Virginia, Virginia, Maryland, New York, Ohio, Florida, South & North Carolina, Georgia, and others. Check out our Large Event Delivery Page specifically for areas outside our immediate delivery area, but that will we travel to for large event rentals.
Delivery Cities in Maryland
We are proud to offer regular delivery routes for our soccer darts inflatable game rental in popular Northern Maryland cities like Bel Air, Aberdeen, Towson, Owings Mills, Westminster, Emmitsburg, Thurmont, Glen Burnie, Columbia, Elkton, Middletown, Parkton, White Hall, Monkton, Sparks Glencoe, Timonium, Towson, Parkville, Hampstead, Upperco, Reisterstown, Finksburg, Randallstown, Pylesville, Street, Whiteford, Forest Hills, Baltimore, and many more. Feel free to check out our Big Event Specialists pages for areas outside of what is mentioned on the link above "Large Event Specialist", or call us at 717-650-7657 and we would be more than happy to create a customized quote for you.