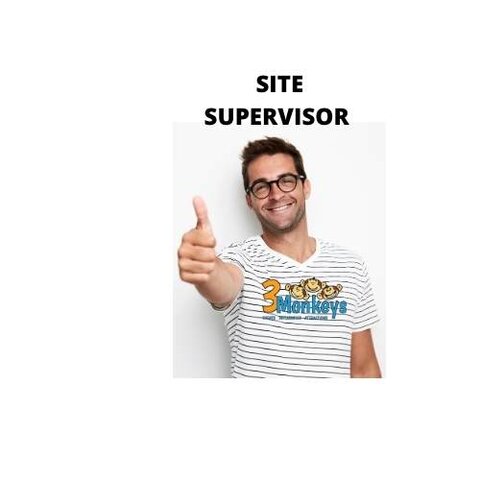 Site Supervisor




$60.00

Please call to reserve this item.

Site Supervisor Attendant Rentals
3 Monkeys Inflatables Site Supervisor Rentals available in York, Lancaster, and surrounding cities.
Site Supervisor Description
This is needed for all collegiate and corporate events. Please note this site supervisor is not meant to take the place of attendants - you are still required to have an attendant per each item, whether that be our attendant or your own attendant. The site supervisor purpose is to fill generators with your extra gas (you need extra gas on site unless you ordered it for us to bring along as well), to troubleshoot any type of game/inflatable issues and to also follow up with an attendant that may be not following the guidelines we trained them on prior to event start. It is impossible for a site supervisor to be watching a large event on their own. Keep in mind that you cannot have a huge event and expect to just have one site supervisor monitoring all area's of that event. Our site supervisors are at a rate of $60 per hour to monitor the site up to a rough estimate of 4 inflatable attendants at one time. The inflatables do need to be close together and not a huge spread out landscape.
What is a Site Supervisor?
A Site Supervisor is required for all collegiate, corporate, and larger events booked with 3 Monkeys Inflatables. Please note that the Site Supervisor does not take the place of any attendants. As the customer you are still required to have one attendant per rental item. The Site Supervisor will be present to re-fill generators with your extra gas (you are expected to have extra gasoline on site, unless you ordered additional gas as part of your order), to troubleshoot any type of issues that may arise with games or inflatables, and to ensure the attendants are following all guidelines that they will be trained on, prior to the start of the event. Please know that one supervisor cannot monitor a huge event all on their own, especially if there are multiple entertainment areas spread out over an exceptionally large space. With that said we do ask that the inflatables be placed close together and not spread out.
How much does it cost to have a Site Supervisor? And do I need your attendants?
Whether you are one of our collegiate, corporate, or larger event customers, or maybe you would simply like to hire a Site Supervisor for your event, the cost of a Site Supervisor is $60.00 per hour. This is for up to an estimated four inflatables that are set up at your event. Do you need to hire attendants from 3 Monkeys? The answer is no, you are not required to book our attendants. You may use your own volunteers or staff members as attendants. However, please keep in mind that in the state of Pennsylvania, all attendants on inflatables must be at least 16 years of age. You can have younger teenagers monitor games if you feel they are responsible enough. If you do wish to hire our attendants, to monitor the use of any games or inflatables you have at your event, our cost is $30.00 per hour. And please remember, attendants are required on every single rental item.
Will you delivery to my area?
We always tell our customers; 3 Monkeys will deliver to nearly anywhere! But, depending upon your location and distance from our shop there could be an additional delivery fee and a required order minimum. Call our office if you would like to find out how much the delivery fee and the required order minimum are to your area: 717.650.7657. Some of the areas we deliver to in PA and MD are Red Lion, York, Felton, Delta, Spring Grove, Gettysburg, Harrisburg, Hershey, Carlisle, Mechanicsburg, Manchester, Stewartstown, Shrewsbury, Lancaster, Marietta, Columbia, Brownstown, Manheim, Lititz, Millersville, Mohnton, Ephrata, Birdsboro, Reading, West Lawn, Westminster, Baltimore, Bel Air, Towson, Laurel, Owings Mills, Lutherville Timonium, Reisterstown, Hunt Valley, Annapolis, Anne Arundel, and so many more!

Generator Refilling



The site supervisor can refill the generators during the event as needed, however you do need to either purchase extra gas from us or have a gas can on hand. Remember the gas can should be at a safe distance (over 20ft) away from the generator and should be stored in an area that is supervised so that no one shall play with or get hurt messing around with the gas cans. Generators typically can run for 4-7 hours depending on how much amps are running from them on one full tank of gas. We suggest if you are having 2 outlets or more run from our Large generators and similar in some of the smaller ones that you should plan to have extra gas on hand or purchase some through us for your rental period so you have gas on hand.

Troubleshoot any on site issues
The Site Supervisors job while on site is to ensure all games and/or rental items are running smoothly and checking in on the attendants who are running the inflatables/games. If they notice a lack of rule following and/or unsafe conditions they will address them and if needed bring them to the coordinators attention to keep them in the loop. They will address any issues not only with equipment, rules, but also with children or participants who attendants are having a hard time addressing. We do our best to address any issues of rules not being followed as that benefits our coordinator at the event to ensure the event is fun yet safe. Safety is our top priority while also prioritzing fun during the event and things running smoothly!