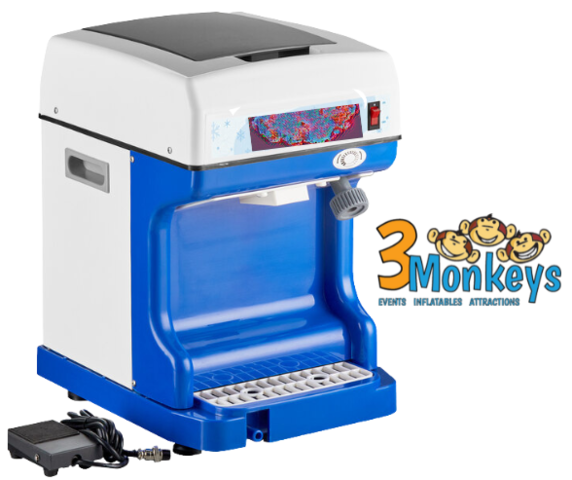 Shaved Ice Machine




$100.00

Please call to reserve this item.

Shaved Ice Machine Rental York Pennsylvania Area
3 Monkeys Inflatables is your Shaved Ice Machine Rental Specialist in Harrisburg, Lancaster, Hanover, Gettysburg, Hershey, Reading Hagerstown, Frederick, and Towson Areas.
Keep in mind that we do not accept any returns on concession supplies due to food safety guidelines.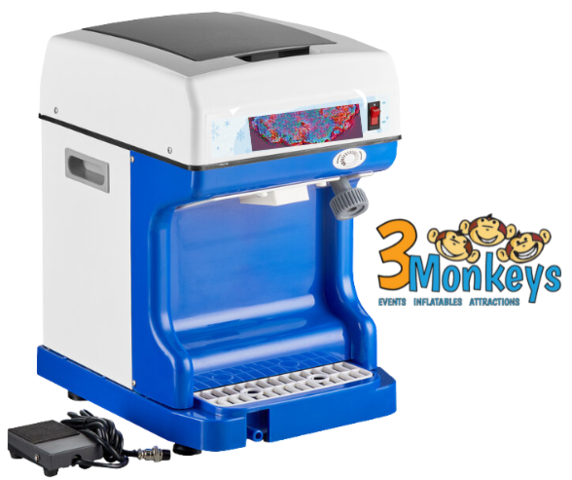 What's the difference between a Snow Cone Machine and a Shaved Ice Machine?
That is simply that Snow Cone Machine Rentals have larger ice granules than Shaved Ice Machine Rentals. Shaved Ice is definitely more comparable to a snow consistency and is very fine, light, and fluffy whereas in a Snow Cone Machine Rental, you will notice larger pieces of ice. A Shaved Ice Machine is more of that fluffy taste when eating versus the crunchy feel when you are eating snow cones. Regardless of what you choose for your rental, they are both tasty cool treats that just offer different choices of textures. Another plus to a Shaved Ice machine is your flavored syrups when added are absorbed by the ice verses surrounding it as they do with snow cones. Shaved Ice Machine Rentals are also often called Hawaiian Shaved Ice, Shave Ice, Shaver, Shaved Snow or Fluff Ice.
How to book the Shaved Ice Machine Rental?
Simply go to add to cart in while on our website and choose the Shaved Ice Machine, along with any of your other rental items like our popular Bounce House Rentals, Water Slide Rentals, Game Rentals, Tent Rentals, Table & Chair Rentals, and many more Event and Party Rental items you may want to add to make for your special day. We are of course able to create your cart and send you either a quote or book your party for you if you call us at 717-650-7657 or 410-581-5867. Alternately, we also offer the opportunity to reach out to us on Facebook, Instant Message on our website page, or via email at: info@3monkeysinflatables.com However you choose to reach out we are here to answer questions, help guide you to the right choices for your party, or just simply help you get your items reserved so you can check something off your list today. We even have concession and event rental Youtube instructions and informational videos available to help guide your rental. Feel free to like and subscribe to our channel so you get updates when we add new products, new instructional videos, and surprises!
Event & Party Rentals
3 Monkeys Inflatables offers the largest inventory in Central Pennsylvania for your event and party equipment with tons of Inflatable Rentals, Concession Rentals, Game Rentals, Axe Throwing Rentals, Mobile Escape Room Rentals, Trackless Train Rentals, Euro Bungee Rentals, Rock Wall Rentals, Bumper Car Rentals, Mechanical Bull Rentals and so much more. Our inventory is huge, take a look and spend the time investigating all the rental items on our website. With over 300+ items you won't be disappointed in the inventory and likely to find things you want to Pin on your Pinterest board of items you want to rent! ;)