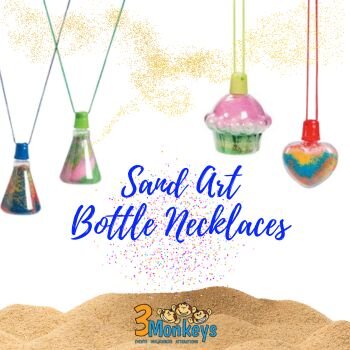 Sand Art Bottles




$250.00

Please call to reserve this item.

Sand Art Bottles Pennsylvania & Maryland Event Rental
Creative Make and Take Rentals in Pennsylvania and

Maryland
Sand Art Creations
Your participants will lay colored sand into the bottle they choose from the varied selection to create a pattern that they design. The bottles are 3 3/4" Tall and you will get 20 of each of the Alien, Moon, Butterfly, Flower, and Smile for a total of 100 bottles in this package. You will also get 8 bright colors of sand to use to layer your creations with. Choose from Red, Pink, Purple, Orange, Lime, Yellow, Blue, White, or choose to layer using them all! There is definitely enough sand to fill all 100 bottles along with spoons and complete sand art instructions. The only thing you will need is funnels which we can provide for just a few bucks more.
Great Fun with Sand Art
Sand art is the perfect activity for all ages as it is something that is simple where you use your imagination to create the perfect layered effect that excites your eye. If you need more than 100 bottles simply call our office at 717-650-7657 or email us at info@3monkeysinflatables.com and we can put together a custom order for you.
Stress Relieving Craft
Sand Art is also known to create amazing stress-relieving effects. You are not only left with the final product being beautiful, but the dumping of colors and layering can be quite therapeutic. Sand art is a very relaxing craft that is great for college events, school celebrations, Jewish events, community events, back-to-school events, church events, backyard parties. and more! THIS DOES NOT COME WITH AN ATTENDANT.
More Arts and Craft Rentals
3 Monkeys Inflatables is the York area leader for not only bounce house rentals but also art and craft rentals like our popular sand art bottles, we also carry sand art bracelets, sand art necklaces by special order, sand art frames, as well as essential oil crafts, make your own tea bag rentals, massage mats, oxygen bars, airbrush glow art, airbrush art, essential oil, tattoos, make your own stress balls, painted rocks, rice jewelry, wax hands, and so much more in our make and take rentals. These are absolutely perfect for any type of party, event, grand opening, anniversary event and so much more!
How to book your Make & Take Rentals
It's super easy to book your make and take rentals by 3 Monkeys Inflatables York's make and take rental specialists. You can simply add the make and takes and other rental items to your cart online on our website, and when your cart is complete choose to complete your order and enter your necessary booking information to provide us with contact details and delivery details for your order. Once you have chosen your date and times for your party you can complete the order with a 25% non-refundable deposit and you are now booked and reserved for your party or event date. We will contact you via email or phone a few days prior to review the delivery times and pickup times assigned to you and we are here along the way to answer any questions via email, phone, or online from our website!