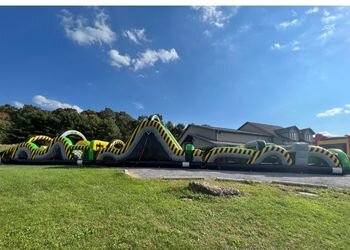 Radical Run Explosion (#97, #98, #99)




$1,049.00

Please call to reserve this item.

Get Ready to Conquer the Ultimate Challenge with Our Huge Obstacle Course - Radical Run Explosion!
95' Radical Run Explosion Obstacle Course Rental

About the Radical Run Explosion
The Radical Run Explosion is 95 feet of awesomeness! Measuring 95'L x 11'W x 16'H this huge obstacle course is made up of three separate race obstacles; the 30 foot obstacle, the 35' obstacle, and the 30' rock climb slide. Totally radical! The really cool thing about this obstacle course is that you can rent one, two, or all three pieces. If you are limited with space, know your footprint, and book only what will fit into your space. Power requirements for the Radical Run Explosion are 3 separate outlets for the 3 separate blowers. You will likely need 3 separate circuits as well. If you are renting a generator you will need a large size generator to properly run the blowers for this giant obstacle course rental. And please remember, depending on the length of your event you may need additional gasoline to refuel the generator throughout your event. The three pieces in this obstacle course are interchangeable and may not always be set up in the order you see in the picture. As long as the obstacle is functioning where participants can enter at one side and exit out the other, the experience is the same. Setup order is at the discretion of our setup crew.
What do you do in this obstacle course?
Obstacle course rentals have similar features but different layouts and different looks. Some of the common features found within race obstacle courses are pop ups, pop outs, barrel rolls, crawl through tunnels or arches, climbs, and rock walls or slides. While this particular radical run obstacle course is designed to be a race obstacle, it doesn't have to be. Two participants can go at one given time and either race to the end or go through at their own pace.
What age group is this obstacle course best for?
The 95' Radical Run makes a great adult obstacle course and kids obstacle course. However, if you are renting the 30' obstacle or the 35' obstacle on their own, it is recommended for children ages 12 and under. If you are looking to entertain middle school aged children or high school aged kids, take a look at our 65' obstacle course, 72' camo obstacle course, or the Nuclear Obstacle Course series too.
How to rent the Radical Run obstacle course?
Booking with 3 Monkeys is simple. You can book your party rental online by adding the desired items to your cart choosing your event date and times. You will then need to enter your city and zip code which will give you your travel fee. You will be prompted to enter your personal information as well. Please be sure to list a mobile number so that our drivers can reach you the day of delivery or pickup if they would need to. It is also important to know if we are going to be setting up the inflatable obstacle course on grass, asphalt, turf, indoors, etc. When setting up an obstacle course on grass, our professional delivery crew will stake it into the ground. If the obstacle course will be set up on turf, indoors, or asphalt, we will need to bring sandbags. If you would prefer to book with one of our staff members, please call our office between the hours of 9 a.m. and 5 p.m.Mondays through Fridays at 717-650-7657.
Radical Run Obstacle Course Delivery Area
We deliver to Central PA and Northern MD. Some of our frequent delivery cities include Felton, York, Red Lion, Lancaster, Manheim, Lititz, Millersville, Ephrata, Harrisburg, Mechanicsburg, Carlisle, Bel Air, Freeland, White Hall, Monkton, Baltimore, Hereford, Phoenix, Sparks Glencoe, and more. There is a delivery fee to each of these cities as well as order minimum requirements. Please keep in mind, the further you are from our physical location in Felton, the higher the order minimum and travel fee are going to be. If you aren't sure if we deliver to your area, please call or email us at info@3monkeysinflatables.com.