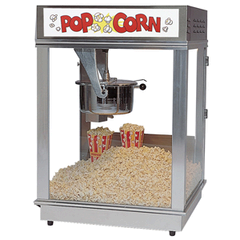 Popcorn Machine Rental with any inflatable rental




$85.00

Please call to reserve this item.

Popcorn Machine Rental York Pennsylvania Area

Popcorn and Concession Machine Rental Specialist in Central PA & Northern MD like Harrisburg, Lancaster, Hershey, Dauphin, Reading, and Baltimore Area.
Popcorn Machine Rentals are a popular treat that works well to add to your event rentals as an extra item to give away and give that carnival feel to your party or event. The Popcorn Machine rental gets those amazing popcorn fresh-made smells into the air that your guests won't be able to resist!
Popcorn Machine Rental Details
Popcorn Rental Machine

Popcorn Bags (60)

Prepackaged Kernels/Butter/Salt Packs to make 60 servings

We also provide a Popcorn Scoop for you to use for your event.
Extra bags/prepackaged popcorn kits can be purchased for an additional cost of $40 for every 60 servings.
Your Party is Complete!
3 Monkeys Inflatables believes in providing our customers with a full rental and not just the machine and then you have to go buy ingredients on top of the rental cost like a lot of other rental companies. This is the way rental companies can add more profit to the concessions, but we are a big believer in creating a package that has everything you need. You have enough to worry about and we want to make a booking with us as simple as possible. So when you rent your concessions like the Popcorn Machine rental you will notice it always will come with supplies to make sure you have the ingredients you need to create a great snack item at your party. We of course have extra supplies available if you should need more than the 60 servings we provide in this rental. We deliver to most of Central Pennsylvania and Northern Maryland in popular cities in York, Lancaster, Harrisburg, Felton, Dover, Hanover, Manchester, Lititz, Gap, Baltimore, Towson, and surrounding cities.
This easy-to-use, complete kit, features sections to keep your popcorn ingredients separate and organized. Simply add the kernels, oil, and seasoning to your popcorn kettle, with no mixing or measuring required! This popcorn kit has 0g trans fat per serving and is made in America. Six kits are included to make up to 60 - 1 ounce bags of popcorn for each of your guests. Our bags are an eye-catching addition to your carnival, fair, party, or event. Use them to serve up some hot, buttery popcorn! Each 3 1/2" x 2 1/4" x 8 1/4" bag has a fun, vibrant red and white design on it. There are 60 bags included. Keep in mind we do not accept any returns on concessions due to food safety guidelines.
Need MORE Popcorn?
Should you need more ingredients because you are going to have a large number of guests or perhaps you just love popcorn, you can add additional popcorn servings to your order.
Requirements:
For the Popcorn Machine rental, you will want to have a table available to place the Popcorn Machine on, prior to our staff arrival. You will also need to have a designated electrical outlet for the popcorn machine to be plugged into. You will need 6-8 amps of power (955 watts). We can run one, fifty-foot extension cord on this item IF needed. However, we prefer to keep it on just the plug that comes with the popcorn machine, if possible. This allows for the correct amount of amps to the unit so that it works the most efficiently.
Popcorn Attendant: It is the responsibility of the customer to have someone in charge of making the popcorn at your event. This rental does not include a 3 Monkeys company attendant to make the popcorn for you. While we cannot guarantee attendant availability you can certainly inquire to see if we have one available for your date to book as a concession or popcorn attendant but there is an additional cost for each attendant at your event.
*** Keep in mind Power is the customer's responsibility to ensure they have enough power on-site.