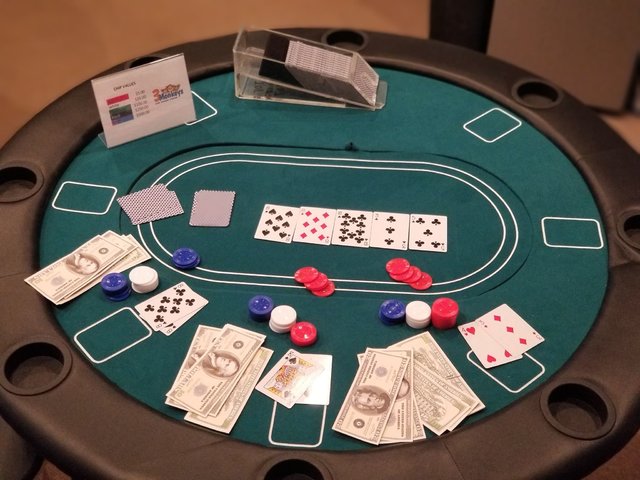 Poker Table Casino Games




$399.00

Please call to reserve this item.

Poker Table Casino Game Rental
3 Monkeys Inflatable

Rentals delivering to York, Harrisburg, Lancaster, Carlisle, Baltimore, Reading, and more Pennsylvania & Maryland Cities
Casino Event Rental
A poker table casino game rental is a must-have at any casino event. Poker is the one game at the casino where the players play against each other and not the house. This changes the strategy of the players and brings a little more skill into the game. Poker Table Casino Games are typically pretty popular to a point that most of our customers order two or more per casino event because they attract so many participants to the tables. If you need assistance planning your casino night event please feel free to reach out to our office with as many details as possible about your event. Call us at 717-650-7657 or you can email us at info@3monkeysinflatables.com
Table Game Rentals
We have round poker tables which are ideal for games without a dealer like 5 card draw and 5 card stud. These tables hold up to 8 players. This table can also be used for Texas Holdem for up to 7 players and 1 spot for the dealer. They have a nice felt top with padded edging and cup holders. We also have oval tables which are designed for the primary casino poker game…..Texas Holdem. Our tables are designed for up to 8 players plus the dealer. Our tables are finished with a nice felt top as well as a padded edge and cup holders.
Rent with the Best
Party and Rent with the best for your next Casino Party Rentals. Our professional card dealers will interact and have fun with this entertainment casino party rental that will excite you! Give us a call for more questions and details that we can answer for your upcoming casino Event. 717-650-7657 or email us at info@3monkeysinflatables.com. Check out our Poker Casino Parties locally in York, or the surrounding Central PA area.
Poker Table Options
Here is the round table poker option that allows for players to sit comfortably around the dealer and can chat and talk to each participant pretty easily.



Here is the oblong poker table game rental that allows for more participants to get involved in Poker table game rentals.

We rent all types of game options for you to have your entire casino event with or without our dealers as our game rental options. Add to the fun at your party by adding a Blackjack Table, Roulette Table, or Craps Table. Give our office a call or email us if you would like more information regarding our dealers, or just have follow-up questions now answered here.