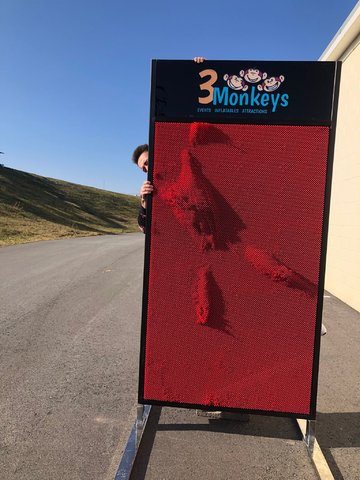 Pin Art




$599.00

Please call to reserve this item.

Giant Lifesize Pin Art Rental
3 Monkeys Inflatables York Pennsylvania Life-Size Pin Art Board and Unique Party Rentals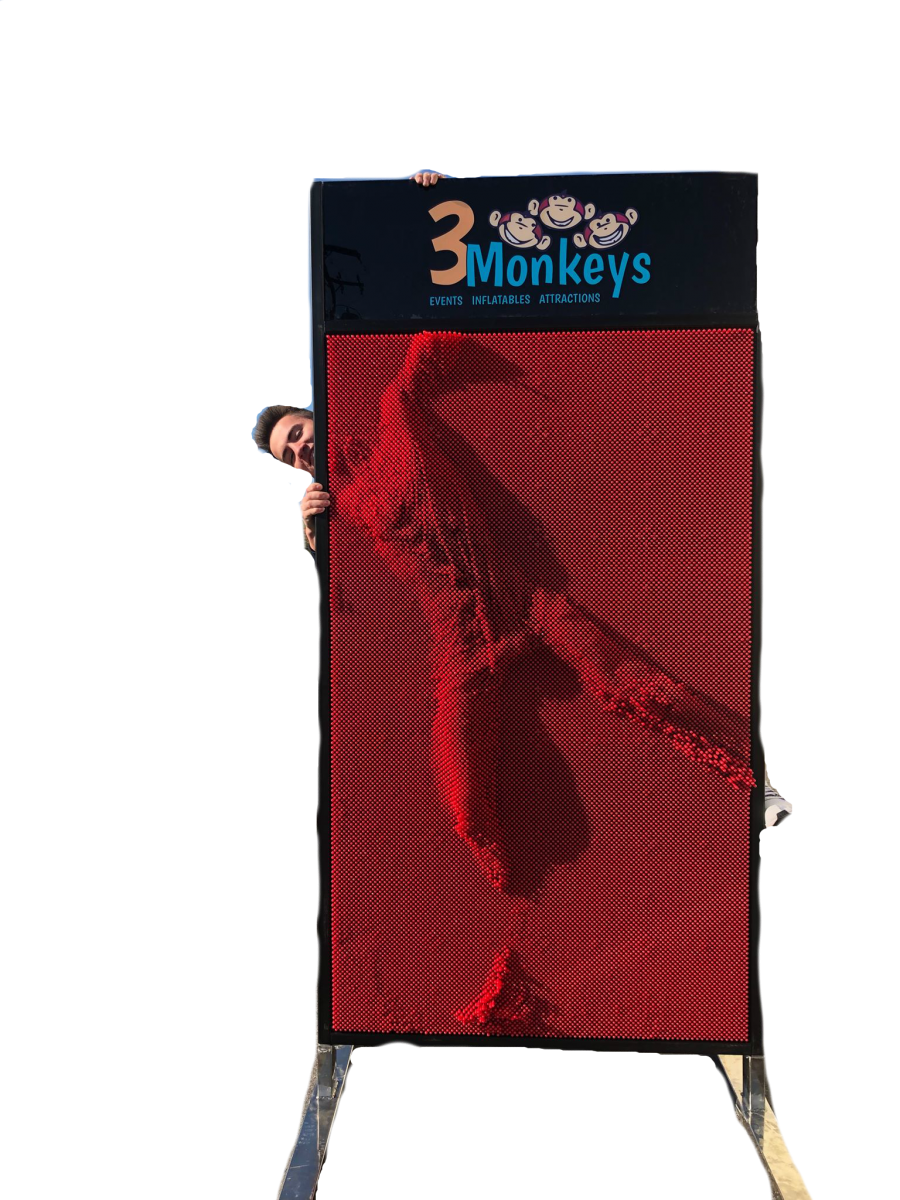 Our Giant, Lifesize Pin Art Board is Giant in size and is something that is going to really excite your guests from the unique opportunity to play offering hours of fun for everyone! Take pictures of your amazing creations that you make of yourself or of your group and don't forget to share them with us at info@3monkeysinflatables.com for our photo page!
Details of the Giant Pin Art Rental.
This giant pin art board rental is for up to 3 hours. Need it longer? Not a problem. Each additional hour is priced at $75 per hour. This is also priced so that an attendant is included in the rental. The attendant will monitor the use of the Giant Game and can also snap some photos for you too. What is better than a Human size pin toy?! Participants can safely press their face, hands, body, arms, legs, and all parts of their bodies up against the pins to create the most amazing creations that will also keep your crowd entertained and likely laughing.
Great Rental for All Types of Events!
Post Proms

High School Events

Maydays

Christmas Parties

Backyard Birthday Parties

and so many more!
How to book with us!
Simply book with us online at www.3monkeysinflatables.com. Add the desired rental items to your cart. When you are ready to check out simply type in your zip code and find your city on the dropdown menu. If your city is not listed please do not assume we don't deliver there. Simply call the office at 717-650-7657 or email us at info@3monkeyisnflatables.com. You will then need to choose your party date and the start and end times of your event. You will be asked to enter your personal information such as your name, email address, phone number, and address, along with the details of your event. In order to reserve our party rental items, you will need to make a credit card deposit of a minimum of 25%. Should have you have any questions along the way feel free to call us because we are here for you and can help you process your booking and also suggest some ideas for event rentals.
We have it all - including other games!
3 Monkeys Inflatables has it all from the combo bouncer rentals, obstacle course, water slides, slides, extreme inflatables, concessions, tents, tables, chairs, rock wall, mechanical bull, bungee run, euro bungee, bumper cars, escape room rentals, axe throwing trailer rentals, VR coasters, misting tents, catering, foam parties, toddler inflatables, giant movie screens, distracted driving simulators, and so much more. Our giant game collection includes giant-sized games of Jenga, Operation, Chess, Checkers, Corn Hole, Horseshoes, Scrabble, and more. 3 Monkeys also offers inflatable games like the basketball toss and the qb blitz football toss and bin games like can smash, mini hoop, and plinko to name a few.
Common Questions and Answers:
Q: Does this pin art rental have any power requirements?
A: No, the pin art does not require any power.
Q: Will you deliver the pin art?
A: Yes, 3 Monkeys does deliver our rentals. However, there is often a delivery fee based upon your zip code and depending upon your location there could be an order minimum required prior to the delivery fee. If you would like to know what the delivery fee and order minimum are to your are please contact the office at 717-650-7657 or email us at info@3monkeysinflatables.com.
Q: Does the attendant bring a camera to take photos?
A: No, the attendant will not have a camera to take photos. However, if you would like to have the attendant take photos with your phone camera, you may do so at your own risk.
Delivery Area
We deliver to all of Central PA
and
Northern Maryl
and
in popular cities like;
Mechanicsburg
, Enola, Camp Hill, New Cumberl
and
, Hummelstown, Carlisle, Etters, Middletown, Hershey, Elizabethtown, Palymra, Annville, Lebanon, Myerstown, Steelton, Pine Grove, Duncannon, Jonestown, Halifax, Newport, Millersburg, Lewisberry, Mount Wolf, Lemoyne, Boiling Springs, Shermans Dale, Marysville, Dauphin, New Bloomfield, Mount Holly Springs, York Springs, Lykens, Millerstwon, Grantville, Fredericksburg, Elizabethville, Liverpool, Bethel, Tower City, L
and
isburg, Tremont, Williamstown, Loysville, Wellsville, Bainbridge, Highspire, Thomsontown, Grantham, Ellitosburg, Dalmatia, Wisconisco, Gratz, Summerdale, Cornwall, Maytown, Mount Gretna, Rehresburg, Struasstown, Plainfield, Emigsville, Muir, Pillow, Rheems, Lawn, Mount Aetna, New Kingstown, Campbelltown, New Buffalo, Quentin, Rossville, Ono, Perry County, Cumberl
and
County,
York County
, Lancaster County, Adams County, Franklin County, Berks County, Schuykill County, Northcumberl
and
County, Juanita County, Bucks County
and
many more!