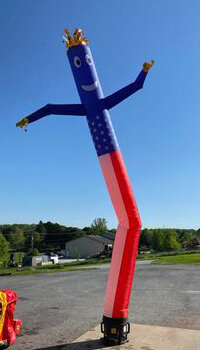 Multi Color Fly Guys




$69.00

Please call to reserve this item.

Multi Color Fly Guy Advertising Rentals York Pennsylvania Area
3 Monkeys Inflatables is your Fly Guy, Sky Dancer Rental, and Advertising Guy Rental Specialist in Harrisburg, Lancaster, Dallastown, Hershey, Hanover, Spring Grove, and Shrewsbury Area.
Advertising Inflatables
If you are having an event where you want to draw in a crowd or simply draw attention to your event you can do this with the Multi Color Fly Guy Advertising rental. These eye-grabbers are also known as Fly Guys, Tube Dancers & Air Tubes. Our promotional specialty products will make sure your event is noticed! This is particularly useful to mark turn-ins for guests who may not be familiar with where they are going, grand openings of stores or businesses, car dealerships to attract customers and is a grand way of saying, "Hey! Check us out!" to passerby's who may not know you are hosting an event.
Specs
The fly guy is 20' tall and has one, single leg. This tube rental does come with the necessary blower. It is multi-colored with a head & arms that are waving. Visually dynamic and minimal cost with maximum attention benefits to your event or business! Create a message to anyone who is passing by adding signage with more details of the event he is representing.