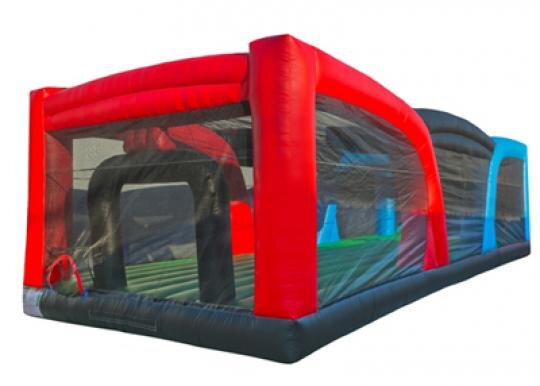 Multi-Sports Combo Arena
Actual Size: 35'L x 15'W x 11'H





$419.00

Please call to reserve this item.

Multi-Sports Combo Arena York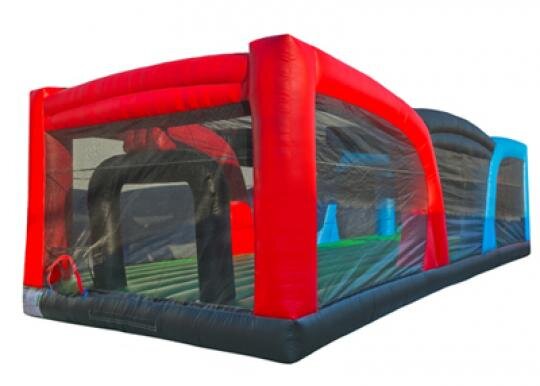 Volleyball, Basketball, Dodgeball, Soccer, and Bounce House Arena for Rent
The Multi-Sports Combo Arena is that unit that is going to solve all your summer sports issues of what sport to choose to represent at your next backyard or corporate party. This multi-sports combo arena is made to be able to have participants play their favorite sports games like volleyball 3 versus 3 opponents, or how about dodgeball 3 on 3? You can even play full-court basketball in this arena with a total of 6 players and they can be up to 250 lbs each! Of course, no sports arena is complete without offering a soccer arena complete with soccer goals. After everyone is tired out from playing their favorite sports games this arena easily can accommodate 6 kids to jump and play in a traditional bounce house fashion! Providing Sports Arenas in York County, Pennsylvania, Central PA, and Northern MD.
Check out the video of our staff who just put this unit up to explore it and couldn't help but to play dodgeball and basketball in this sports arena. It's going to be a great sports bounce house arena rental when you can mix it up and play varied games throughout your event with just a little bit of setup. This multi-sports combo arena is 35 L x 15 W x 11 W.
Volleyball Bounce Rental
Imagine your friends and you playing a game of volleyball in a bounce house designed with a volleyball net fully enclosed so the ball doesn't escape where you can test out your bouncing skills as you soar higher for that volley than ever before!
Full Court Basketball Bounce Rental
Full Court Basketball Rental served upright in a bounce house? We are not kidding it is full-court and has basketball nets on each side for players to dunk and jump like never before to make those amazing layups and jump shots!
Soccer Bounce Rental
Create the best soccer 3 on 3 games in a soccer bounce house arena keeping the ball put inside while your little soccer champs play 3 on 3 against one another to see who scores the best and most goals. Play 2 on 2 and add your goalie's in front of the goals to really add some edge to your soccer games!
Dodge Ball Bounce Rental
Who doesn't love to play dodgeball with all of their friends, now add to dodgeball a bounce house...um yes, please! This is the best of two worlds combining so you get the fun of dodgeball but on a much softer parent-friendly approved surface! Have fun!
Bounce House Arena
You still get to enjoy bouncing after all the games are played there is fun to still be had with this special arena bounce house. Enjoy up to 6 of your friends jumping and playing in this extra-large bounce house arena.