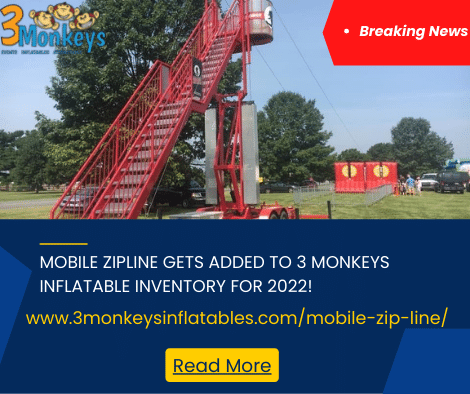 Mobile Zip Line Rental




$2,750.00

Please call to reserve this item.

Rent a Mobile Zip Line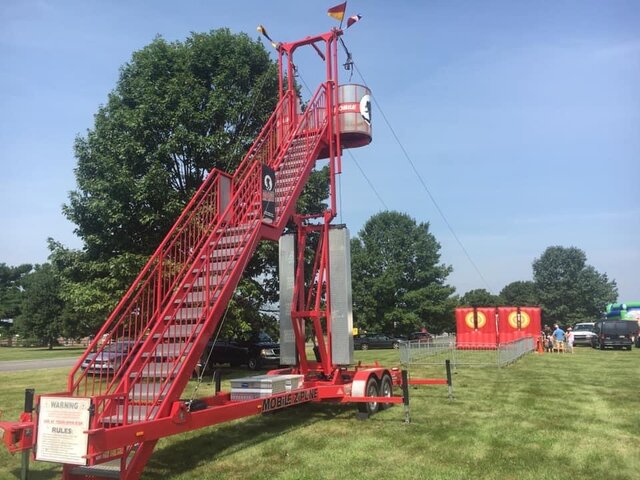 Portable Zipline rentals are available in York, Harrisburg, Lancaster, Carlisle, Philly, Reading, Baltimore, and many more!
Mobile zip line rentals are exhilarating and fun for any type of event or party. The Dual Lane Mobile Zip Line Conquer fears, or feed extreme thrill-seekers with this awesome mobile zip line that spans out to 100ft. The Portable Dual Lane Zip LIne stands 28 feet in the air, with two parallel zip lines, so 2 people can participate at once. Not only will we professionally set up this zipline for you and your guests, but we will follow ASTM, manufacturer, and state guidelines to ensure safety as our top priority. Zip Line Rentals can be done for outdoor zip line events, as well as mobile zipline indoors as long as you have the space needed.
Mobile Zip lines are a great way to add excitement to just about any type of event. Ziplines are not a common attraction, at fairs and festivals, so this is a very unique opportunity for most of your guests to experience the thrill of a zipline that is 28 feet tall, and 100 feet long! We do request a flat area of about 200ft by 20ft and 28ft vertical clearance, free of wires, or overhanging trees. The mobile zipline rentals have an Auto-Retract™ system that allows for the brake line to slowly and smoothly absorb the energy of the zip line rider.
3 Monkeys Inflatables are the leader in Portable Zipline Rentals
Corporate Events, Church Groups, and Schools are among the many groups who recommend us as their main party providers for all types of party rental equipment needs. Offering the best in customer service, attention to detail, and planning of your events so that you can sit back and relax and know your event is going to be exactly like your vision is something our customers are used to receiving when using our services. We are available to go over questions by phone or email, and of course available for 24/7 support during your event. Choose a company with the most experience, the largest selection, and a perfect safety record.
Zipline Trivia: Did you know?
The mobile zip line was developed by the same group that pioneered the use of an auto-belay safety system on rock walls over 17 years ago! The purpose of an automatic belay system is to take slack as you climb, therefore it negates the need for a ground belayer who could be subject to distractions. When the climber reached the top, or if they fall the belay device automatically catches the climber and slowly lowers them to the round. Spectrum Sports the manufacturer of our zipline has a patent-pending Auto-Retract system that smoothly slows only the last 10% of the ride using a brake line to gently absorb the energy of the zip line rider. The Zipline brake stopping motion differs from other zipline manufacturer systems that rely on impact breaks, which produce severe whiplash motion!
Zipline Specs and Details
The overall footprint is 20'W x 174'L + anchor, and Tower Footprint is 28'H x 31'L x 14' W (with outrigger jacks) Rider Distance Traveled is anywhere from 90'-100' depending don't the weight/height of the rider. The maximum speed for a rider can be up to 21mph. Weight Capacity is between 45-200lbs. 2 Operators, with a 3rd that can be added to keep the lines running faster. The rental is for up to 4 hours, with additional hours at $250 p/h. Capacity is anywhere from 70-90 riders per hour. If you are selling tickets we would suggest $10 first ride, and $5 for follow-up rides.
Portable Zipline
Portable Ziplines can be delivered all across Central PA, Northern Maryland, and surrounding areas like Philadelphia Mobile Zipline, Central PA Mobile Zipline, Maryland Mobile Zipline, PA Mobile Zipline, York Mobile Zipline, Harrisburg Mobile Zipline, Reading Mobile Zipline, Lancaster Mobile Zipline, and many more.
RELATED PRODUCTS THAT PAIR WELL WITH OUR ZIP LINE RENTALS