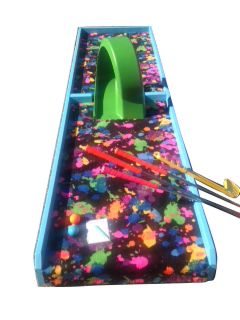 Mini Golf (Reg) - 1 hole




$244.00

Please call to reserve this item.

1 hole Mini Golf Central PA
Rent the Mini Golf 1 hole Mini Golf Rental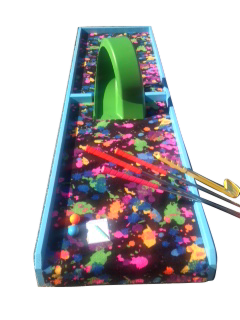 Available in Blacklight too!

(extra charges apply)
1 hole Mini Golf made with durable wood frame and colorful carpet that can be used with blacklight. Comes with putters and balls, as well as scorecards to keep track of your game. This is great for an in-office challenge with a prize for team building in the office where you might not have as much space. This is also great if you were getting a bunch of different carnival games and inflatables and want to have different stations all over for families, f
riends, and co-workers to play. Great for Backyard Parties, Corporate Events, Team-Building Events, Church Parties, Grad Parties, College Events, and School Events!
What comes with my 1 hole mobile mini golf rental?

Your choice of 4 kiddie putters or 4 adult/teen Putters Ball Rental, 6 balls, 4 scorecards, and 4 pencils. You are responsible for ensuring no one is walking up onto the 1-hole mini-golf putting green. The rental is up to 3 hours. Each additional hour would be $50 hr. Blacklight can be added on for an additional $100 for the entire event.
What if I need more holes for Mini Golf?
That is fine. 3 Monkeys Inflatables carries 1 hole, 3 holes, 6 holes,s and of course the complete 9 holes set of mini golf rentals available in both the wooden durable traditional mini-golf setup like shown above, but also in an inflatable mini golf version as well.
How can I prepare for my mini golf 1 holes rental?
We just ask that you know where you plan to set up your 1 hole mini golf rental prior to us arriving on site. If you are putting the 1 hole mini golf outdoors please keep in mind it needs to be a flat area so that the mini-golf works as intended without tilting one way or another. It cannot be outdoors if there is a chance of showers or bad weather. It can be placed under a tent outdoors of course as well as being indoors for your gym or venue setup. We do ask that you someone monitoring your mini-golf rental area to ensure the putters are used only for mini-golfing and used correctly, as well as not mistakenly walking away with the balls, pencils, or putters so other guests can play.
Delivery Area
3 Monkeys Inflatables offers delivery to the Central Pennsylvania Area and Northern Maryland Area in popular cities like York, Harrisburg, Lancaster, Hershey, Owings Mills, Baltimore, Reading, Hanover, Ephrata, Lititz, Enola, and many more cities. If you are not sure if we deliver to your area simply give us a call at (717) 650-7657 or email us at info@3monkeysinflatables.com. We are based in Red Lion, York County PA but we service a very large area in Central PA and Northern Maryland. We add a delivery charge for those outside of the York, PA delivery area however that delivery covers us setting up your inflatable or rental item whether it be setup on asphalt, indoors, or grass as well as picking up the items after the rental period is used.