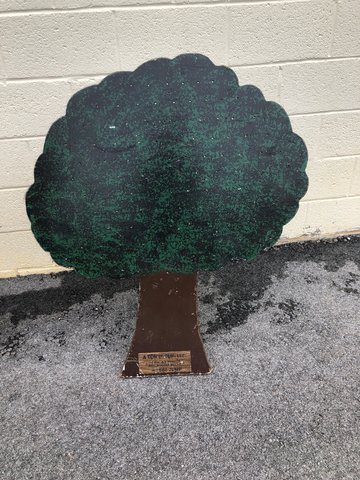 Lollipop Tree




$45.00

Please call to reserve this item.

Lollipop Tree Rental Central PA
Lollipop Tree Rentals delivers to York, Harrisburg, Lancaster, Carlisle, Baltimore, Reading, Camp Hill, & Wyomissing
Our Lollipop Tree Rental is a quick fun treat to offer as a power-free carnival game rental for your fair, festival, or themed event. If you are looking for a sweet fun game for your next Pennsylvania or Maryland Carnival Rental, then the Lollipop Tree is the perfect item to add to your cart! This School Carnival and Funfair favorite are some of the most popular games with players of all ages.
How to Play:
Players just pick a lollipop off this colorful hand-painted wood Lollipop Tree. If the pop is marked on the end then that player is a winner! If not marked at the end they win the lollipop they chose! Everyone's a winner at this fun fast-paced game. Please have lots of suckers or lollipops on hand to keep the players happy. There are 50 spaces to fill with pops. Lollipops are not included. Volunteers will need to mark one in every six (or there chose of how many winners they choose) of the ends to make the odds of winning one of your choosing. Mark more pops if desired to have more winners.
Recommended Ages for Use:
The recommended target age to play the Pennsylvania & Maryland Carnival Rental Lollipop Tree would be at least 4 years old and up. Please allow a space of at least 4 ft wide X 4 ft long for the players to pick from the tree. The setup of the Lollipop Tree carnival game rental can either be on a tabletop (recommended) or on the floor (however it is low when placed on the floor) which is perfect for little ones so you may want to just have your table handy so you can decide when it arrives. If you want a table from us you can rent them online here.
Other Rental Options:
You can combine the Lollipop tree with some of our other sweet rentals such as Cotton Candy Machine, and Sno Cone Machine for a Candy Land or Sweet 16 birthday party for a custom package. Add out Bounce House for a sweet centerpiece or focal point at your event. Kids love these lollipop trees and they are extremely popular to have as a carnival game feature. We offer pickup or delivery with qualifying orders throughout Central PA and Northern MD.