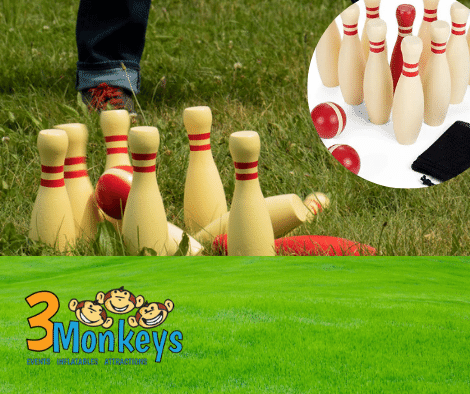 Lawn Bowling




$50.00

Please call to reserve this item.

Lawn Bowling Game Rental
Lawn Bowling brings bowling alley fun to backyard parties, festivals, fairs, or corporate events. Set up the ten wooden pins, and roll, hop, skip, and bounce the bowling ball to knock down all the pins! The Lawn Bowling Game rental is made of solid wood, featuring a rustic crimson and cream color, and is an easy setup in our pack-and-go travel bag. This set comes with 2 bowling balls, 1 red pin, and 9 white pins.
3 Monkeys Inflatables offers you big selections in Game Rentals with our epic Lawn Game selections, to our carnival game selections, frame games, inflatable games, and Giant game rentals. Check them all out on our home page by clicking on the 3 red lines and navigating to the categories of Giant Games and Carnival Game Rentals to see everything we offer!
The Lawn Bowling Game Rental is perfect for working as a group for weddings, bah/bar mitzvahs, corporate events, and backyard parties. Pair them with our popular games like Connect 4, Giant Battleship, Inflatable Axe Throw, Jenga, Horseshoes, and so much more!
Creating a combination of inflatable games, lawn games, giant games, and carnival games creates a cool vibe that will wow your guests at how big of a selection of fun items to play with are featured at your event. Great also for indoor parties where space is more limited as the Lawn Bowling can be contained to a smaller area to make use of all the different spaces and activities at your event!