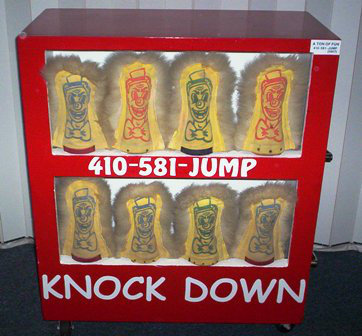 Knock down the clown




$85.00

Please call to reserve this item.

Knockdown the Clown Carnival Game Rental
Knockdown the clown Carnival Game Rental is a compact and easy game to set up...simply throw a tennis ball at the clowns and see if you can knock them down. This game is highly addictive especially if you use 2 and create a competition where you are competing against an opponent to see how many clowns you can knockdown. It is best to give a specific number of balls to each participant so for example you can provide 3 balls to each opponent total or you can make it so that if they knock a clown down they get their ball back to keep going to see if they can make a clean sweep and knock all the clowns down. This game has so many different variations you can play with. If you play a single player with just one of the knockdowns in the clown game try to keep a dry erase border of the leader of who has the most clowns knocked down or give a ticket to the winner who gets all 3 knocked down if you are providing 3 balls per play.
This game is perfect for all age groups and the complexity of the game is pretty simple and so you can have preschool age groups through adult groups playing this carnival game. Knockdown the clown rounds out our fun and classic games that 3 Monkeys Inflatables offers for rental. . Perhaps you might want to get some idea's for your next event you can always give us a call at 717-650-7657 or email us at info@3monkeysinflatables.com We are here to help expedite and make your life simpler by not only having all the items you need to for your event but getting the details from you so you can rest assured that your in good hands and we will send you some amazing packages to create the best event ever! Still need more inspiration check out our awesome catalog online featured on our home page.
We have so many options when it comes to carnival games you are just going to love all of them. Let's get this added to your cart and keep looking all over the website on all of the cool things we have to offer. If you get stuck give us a call and we can tag in and help you out!