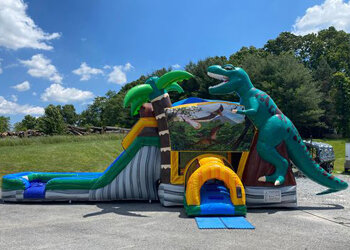 Jurassic DL Combo Wet/Dry




$359.00

Please call to reserve this item.

Jurassic DL Combo Wet/Dry
Jurassic Bounce House Slide Combo delivered to Central Pa and Northern Md
"RAWR!" Calling all dinosaur lovers and enthusiasts! This Jurassic Bounce House Combo will awe you when you see it in person. Adorned with the gigantic dinosaur to the right this combo will provide hours of endless fun including bouncing, playing basketball, and sliding. This combo bounce house for rent has two slides which make this double the fun because you can go down the side with your best buddy!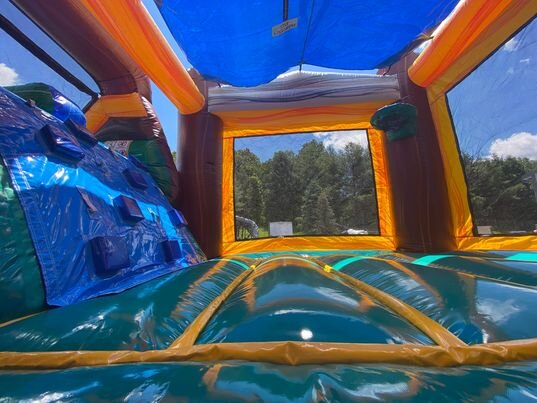 About the Jurassic Bounce House Combo Rental
This dinosaur-themed bounce house combo for rent is one of the best! There is a great big bouncing area where the kiddos can jump, bounce, and have a ball! Speaking of balls check out that basketball net in the back right corner! This provides a little bit of extra fun while they are playing together in the combo bounce house. When they are ready for the slide portion of the fun they will climb their way to the top of the slide, sit on their bottoms, and go feet first down the slide to the landing pad where they can exit the blow-up bounce house combo. Guarantee they are going to sprint back to the entrance so they can climb back in and do it all over again, and again, and again!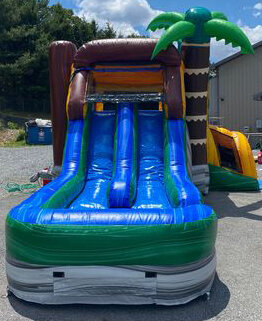 Slides can be used wet or dry!
If you are not sure what the DL stands for in the name of this slide, that's ' dual lane.' And as you can see by the picture to the right, this bounce house and water slide combo has not just one, but two lanes to slide down! There is a nice inflatable bumper separating the two lanes as an added safety feature allowing one person at a time in each lane. This Jurassic bounce house slide combo also has the ability to be used wet or dry. If you are renting this on a hot summer day allow our set up crew to connect your garden hose to our connector hose to create an awesome water slide that will cool off the riders!
How to Rent the Jurassic Wet Dry Combo Bounce House
You can rent this amazing dinosaur bounce house slide combo in one of a few different ways. If you would like to book it right now, add it to your cart and proceed through our easy-to-use, online checkout process. Our online booking is available 24/7 so don't wait because someone else could book it while you are thinking about it! If you would prefer to speak with one of our office staff members call during our business hours, Monday through Friday between 9 a.m. and 5 p.m. and we would be happy to assist you in placing your order. We do require a 25%, non-refundable deposit to book a rental for your date and time.
Delivery Area
Our main delivery area is Central PA and Northern MD. This does not mean we won't travel to your city if you are outside of that area. Some of our most frequented cities are Red Lion, Dallastown, Stewartstown, Glen Rock, New Freedom, Lancaster, Manheim, Lititz, Brownstown, Mohnton, Harrisburg, Mechanicsburg, Carlisle, Hershey, Palmyra, Baltimore, Owings Mills, Hampstead, Pasadena, Elkton, and other surrounding cities.
Frequently Asked Questions
Question: What if I have a rain date scheduled?
Answer: We can only reserve the rental item(s) for one day and time. We can put a note on your order about your rain date and as long as the equipment is available AND you fall under our weather policy, which can be seen in its entirety under our FAQ section, we can accommodate your rain date. If the same items are not available we will work with you to find other items that are comparable and just as amazing!
Question: Does the price above include delivery?
Answer: No, the price above does not include delivery. To find out the delivery fee to your city you can call our office at 717.650.7657, email us at info@3monkeysinflatables.com, or place the item in your cart, enter your zip code, and select your city from the drop-down menu.
Question: Can I use my own extension cord to plug in the Jurassic Bounce House Combo?
Answer: No you may not use your own extension cord to plug in our blowers. While we appreciate the offer we only use our own cords because we know they pull the correct amount of power for our blowers.
Jurassic Combo Requirements:
Occupancy: 6 individuals
Dimensions: 32'L x 16'W x 15'H
Outlets: 1 Standard 110-volt GFCI outlet with 12 amps within 100 feet of the unit.

Generator

Rentals are available.
Attendants/Monitors: This item requires (1) the Attendant to stay with the unit while in use. You may use your own attendant, or book an attendant with us here. Read more about attendants here.
Setup: Please specify when you book this item if you will be setting up Indoors or Outdoors. If outdoors we would need to know specifically if it will be on grass or asphalt a minimum of 5 days prior to your booking. All anchors need to be secured using a spike or sandbag according to the manufacturer's guidelines. We prefer to use ground stakes when possible, if this is not an option we will need to anchor using sandbags.

Jurassic Combo Setup Location:
1. Your setup location needs to be free of rocks, pet waste, sharp objects, or any other hazards.
2. We cannot set up under any utility lines and must have a clearance of 5 feet in all directions away from any obstacles.
3. Please make sure you clear a spot for us to park & unload the equipment as close to the location as possible. If your parking is further than 75 feet please notify our office or put it in the notes portion of your booking.
Jurassic Combo Inflatable Includes:
Professional setup/tear down.
We are registered with the Dept of Pennsylvania/Maryland State Amusement Industry
We have Liability Insurance
Pre and Post-Event Cleaning, Sanitizing, and Inspection
Staking and/or Sandbagging
Tarping (not indoors as it becomes a safety concern)
Extension Cords (we bring out the extensions needed to get electric to the spot you are setting up in) Keep in mind we can only go 100 ft max.