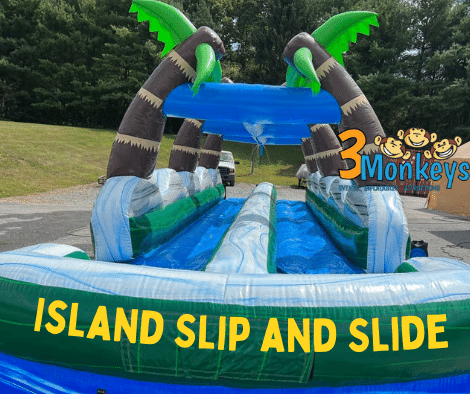 Island Slip and Slide
Actual Size: 35'L x 10.5' W x 9' H
Outlets: 1- 1.5 hp blower (8.8 amps)





$369.00

Please call to reserve this item.

Island Slip and Slide Rental

Rent the Best Slip n Slide Rentals in Central PA and Northern MD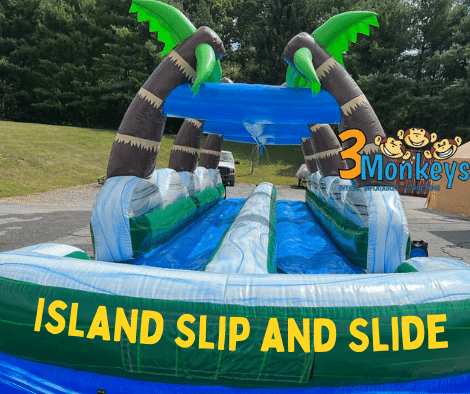 The Island Slip and Slide Rental is the perfect way to cool down on a hot summer day! The 35-foot double lane slip and slide course give you the opportunity to race your friend or family member down the lane to see who finishes first! The slip n slide rentals are very popular with both a younger crowd, as well as older teens and adult crowds. We believe this is because of the simplicity of the water slip n slide course. Slip-n-Slides date back to 1961 and started out with just a plastic sheet on the ground that became slippery when wet. The safety of diving onto the hard ground onto a plastic sheet and skidding down the lane became the invention of the Inflatable Slip-n-Slide which offers you an elevated, more natural run and jump onto the slip and slide inflatable with the air cushion of the inflatable cushioning your jump onto it and therefore making it actually fun as you slide your way down the lane. Thank goodness for technology! Have fun for a block party, neighborhood cookouts, birthday parties, celebrations, picnics, anniversary parties, reunions, over-the-hill parties, sweet 16 birthday parties, bah/bar mitzvahs, community days, festivals, fairs, church events, and so much more!
The Splash pad will collect some water at the end, but not much to worry about. Each time you go down the lanes you will splash the accumulated water out of the end area, but the water does act like a brake to keep from you running entirely into the wall head first. 3 Monkeys Inflatables is your #1 place for slip n slide or slip and slide rentals (whatever you. might call them) in the area. Our highest-quality commercial inflatable slips and slides are perfect for all occasions that will keep your guests smiling the entire event!
The festive island-themed slip and slide rental with arching palm trees, and waves along the length of the slip and slide with an island-themed summer vibe is perfect for just about any gender and perfect for those mixed ages and gender parties! If you are looking for that tropical summer-themed inflatable slip-n-Slide rental then you don't. need to look any further! Head on over to the calendar and book online, or give us a call at 717-650-7657, and our friendly office staff would be happy to schedule your next party with 3 Monkeys Inflatables.