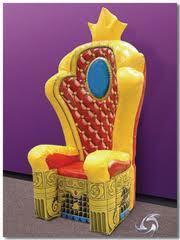 Inflatable Throne Rentals York




$60.00

Please call to reserve this item.

Inflatable Throne Rentals York Pennsylvania Area
3 Monkeys Inflatables is your Inflatable Throne Entertainment Rental for Harrisburg, Lancaster, Hershey, Gettysburg, Baltimore, Hanover, Elizabethtown, Frederick, and surrounding areas.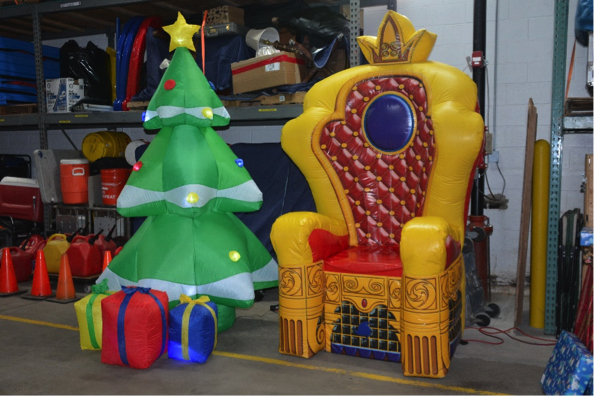 Photo Op Entertainment in PA and MD
Add an inflatable throne to any inflatable party...it makes for a great addition for those special birthday & event pictures! Simply add this to your inflatable rentals, concession rentals, and game rentals as a special place for the special guest or all guests to feel special taking turns in this special seat. Renting the Inflatable Throne from 3 Monkeys Inflatables is the perfect way to make the guest of honor feel like the King or Queen at their special celebration. The throne measures 4'W x 4'L x 8'H and has a sturdy seat and base to provide a safe sitting environment. The inflatable throne is the perfect additional item for birthday parties, bar mitzvahs, quinceaneras, holiday parties with Santa, and more. The photo opportunities that the Inflatable Throne provides are endless, priceless, and memorable! If your party is in Pennsylvania or Maryland we got you covered! Check out all of the city/county options we have available.
The Inflatable Throne is a great addition to any birthday party!
Having a birthday party? Everyone loves when it is time to open presents! Have the birthday child climb onto the throne, so that they are the center of attention, and seat the guests on the floor or on chairs in front of them. Another great idea is to have each guest sit with the gift they brought and have them bring them up one by one so that you can get a great picture with the birthday child and each guest for your book of memories. And do not let the guests leave before getting a group photo because that is one you will want for your scrapbook.
What are some other add-ons for my child's party?
3 Monkeys Inflatables has a variety of add-ons for your event. Concessions are always a welcomed treat by guests. Choose from Cotton Candy, Popcorn, Sno Cones, Shaved Ice, or Hot Dog Rollers! If you are looking for other activities to keep your guests entertained check out our Carnival Games or add a Photo Booth with a custom-designed background.
How do I book the Inflatable Throne Party Chair?
Booking is simple as adding the items to your shopping cart that you want for your party or event. Click checkout once you have added all the items you want, but don't forget about the Tents, Tables, Chairs, Concession rentals, and of course, your Jump House like our Bounce Houses, Obstacles Courses, and exciting Water Slide Rentals. Once you begin the checkout if you forgot to add something simply click on the cart add what you missed and choose checkout again. The process is simple and then you just add your booking event details with contact information, secure your rental with a 25% deposit and that's it you have rented your party items and now you can sit back relax and leave the setup to our friendly staff! If you need assistance along the way give us a call at (717) 650-7657 or email us at info@3monkeyinflatables.com
Questions and Answers:
Q: Does this inflatable throne require power?
A: Yes, because this is an inflatable chair it will require power for the duration of its use. We ask that you try to have power available within 50 feet of where the throne will be placed.
Q: Can more than one person sit on the throne at a time?
A: For safety purposes, we recommend no more than one adult and one child or two small children at a time be seated on the throne.
Q: Would this work for an event where we are having Santa greet the children?
A: Absolutely! This throne is perfect for Santa to sit on while the children form a line and approach him one at a time. It is a great photo opportunity as well to snap their pictures with Santa. See some of our awesome Santa pictures below!