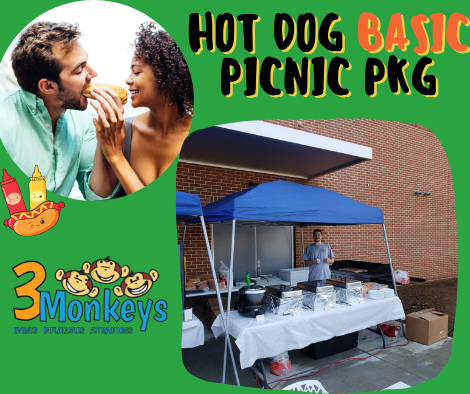 Hot Dog Basic Picnic Package




$8.99

Please call to reserve this item.

Hot Dog Basic Picnic Package
3 Monkeys Inflatable Catering

Rentals delivering to York, Harrisburg, Lancaster, Carlisle, Baltimore, Reading, Camp Hill, Wyomissing, Towson, Owings Mills, and more Pennsylvania & Maryland Cities
Hot Dog Basic Picnic Package Details
If you are having a picnic, celebration, student or employee event, or just a family gathering and want us to take care of feeding your guests, we can do that! Our basic picnic package is a great starter catering package that includes one meat (hot dogs), chips (individually bagged), drinks (bottled water & canned soda), along with all of your condiments, plates, napkins, and utensils. This comes with one server who will serve for up to two hours and the total is $7.99 per person. Please note we do require a minimum of 100 people for catering services.
Other Picnic Package Catering Options
Our Picnic Catering Options allow for hot dogs, hamburgers, pulled pork, chicken, and other meat options available upon request. We also have bagged chips, beans, cold salads, cold fruit, and platter options along with of course your bottled water and canned soda options. Grilled to perfection, we grill and make all of the items fresh on-site at your event. We use seasonings and care to create a delectable selection of amazing foods. We can offer to add on options at your request and have a full list of items available. Simply call or email our office for additional details: 717-650-7657 or info@3monkeysinflatables.com.
Other Picnic Packages Include:
Custome Picnic Package, Standard Picnic Package, Hot Dog Deluxe Picnic Package, and the Classic Picnic Package.
Corporate Catering Experience
3 Monkeys Inflatables has catered events for many large company picnics, universities, private parties, and team-building events. We have the experience of serving small and large crowds with on-site scrumptious food choices that will have your guests coming back for seconds and thirds of the food items. Because we cook everything fresh on-site and with the care, as if we are cooking for our own families, you will see the difference not only in the food taste but the ability for us to have food ready to go for your groups and we will serve them with ease, and friendly smiles which really helps make the 3 Monkeys difference in using our catering options.
Seating Options for your Guests
Be sure to provide a shaded seating option for your guests so that they and sit and enjoy their lunch or dinner! 3 Monkeys also rents tents (20x20, 20x30, or 20x40), tables, and chairs! If your event is in the heat of the summer we also Misting Air Fans to keep your guests cool.
Yard Game Rentals Pair Well with the Basic Picnic Package
What pairs well with food? Fellowship! Providing your guests with a little something extra to do after they are done sharing a meal from our custom picnic package is easy with 3 Monkeys Inflatables making us the perfect one-stop shop for your event. We have a large selection of yard games that will keep your guests interacting with one another, entertained, and most importantly having fun. Choose from Giant Corn Hole, Horseshoes, Chess, Checkers, Backgammon, Battleship, Operation, Jenga, and more! If you aren't quite sure what will be a hit amongst your guests, call one of our booking specialists and they can help make suggestions and help you to get your event booked with us!