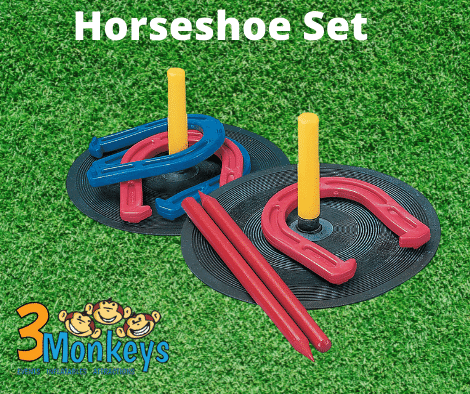 Horseshoe Game Rental




$50.00

Please call to reserve this item.

Horseshoe Game Rental
The Horsehoe Game Rental is a great addition to your outdoor game rental event either for setup on grass or conveniently set up on asphalt or concrete. We also are able to have set up indoors as well. The Flexible rubber-matted stakes are perfect for both indoor and outdoor for your horseshoe game rental. These are standard-size horseshoe rentals, if you are looking for oversized or Giant Horseshoe rentals - We have them too! Head on over to our Giant Game rentals where you will find out indoor/outdoor oversized Giant Horseshoe rentals.
As you might already know the games of horseshoes were at the beginning of the twentieth century. The original horseshoes game was made up of just that - true horseshoes almost circular in shape, with the expectation that a ringer would land around the peg.
Horseshoes is a lawn game played between 2 people (or you can choose to use two teams of two people) using 2 horseshoes each and two throwing targets set into a lawn or flat area. The game is played by alternating turns tossing horseshoes at the stakes in the ground, placed 40 feet apart. To score in horseshoes there are 2 ways, by throwing "ringers" or by throwing the horseshoe closest to the stake. A "ringer" is considered to encircle the stake without touching it. Here is a great piece of literature that explains the basic rules of horseshoes. Click here for the horseshoe literature.