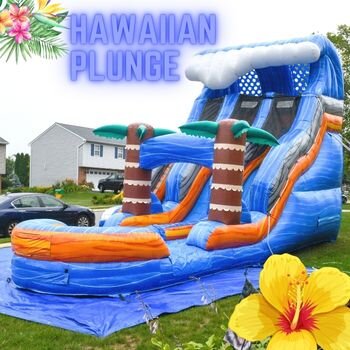 Hawaiian Plunge Water Slide




$449.00

Please call to reserve this item.

Hawaiian Plunge Double Lane Water Slide
Double Lane Waterslide Rentals In PA and MD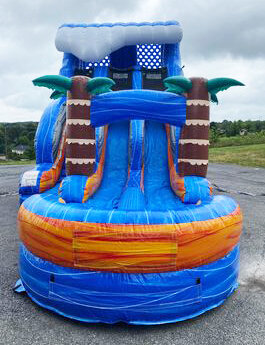 The Hawaiian Plunge Double Lane Water Slide is an epic water slide adventure! From the beautiful water slide featuring blues, oranges, and palm tree effects to the split lane safety feature, this blow-up double-lane waterslide rental is going to be a sure winner for your backyard parties, corporate events, church events, and community event rentals.
About the Hawaiian Plunge Double Lane Waterslide Rental
This awesome double-lane waterslide rental features dual lanes and is 32' Long by 13' Wide by 18' High. It allows riders up to 200 pounds each with a minimum weight of 35 pounds. This inflatable waterslide features a splash pool at the bottom, designed with your safety in mind to slow down riders. There is no jump or stand platform for added safety and there is seat belt webbing used as the hand holds to make climbing the steps a tad bit safer.
The Hawaiin water slide for rent is great for just about any type of kid's party that will allow even pre-teens and adults to have fun on this amazing water slide. Take the Hawaiian plunge today and book this for your next party!
Double Lane Water Slides
3 Monkeys Inflatables has so many cool double-lane water slides to choose from with our most popular Lava 27ft, 22ft Tropical, Twin Falls, Fire n Ice, H20, Tropical Obstacle & Water Slide, amongst a few of the other double-lane slides available for rent on those hot summer days. They are extremely popular and add that cool race slide element, that you can't go wrong with!

How to Book the Hawaiian Plunge Waterslide
If you are interested in renting this inflatable water slide you can reserve it now by booking online with our real-time booking calendar that will show you accurate availability. Click the 'add to cart button and enter your delivery zip code to begin the checkout process. You will then be prompted to enter your personal and event information. Please remember, when booking with 3 Monkeys we ask that you choose the event start time and the event end time. The time you choose has nothing to do with the delivery time.
What kind of ride do you get when you rent a waterslide like the Hawaiian Plunge?
The Hawaiian Plunge is an awesome double-lane water slide with a little dip at the end of the slide to slow you down while you are plunging down the wave-type slides. It's an epic wave slide that is fun to do with friends, families, and co-workers.