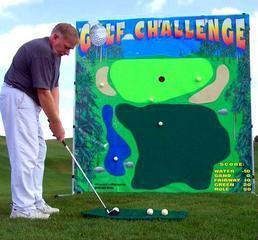 Golf Challenge




$75.00

Please call to reserve this item.

Golf Challenge Carnival Frame Game Rental York Pennsylvania Area
3 Monkeys Inflatables is your Golf Carnival Game Rental Specialist in Harrisburg, Hershey, Lancaster, Hanover, Dauphin, Dallastown, Reading, and Baltimore Area.
The colorful backdrop, which is designed to look like a golf course, is Velcro receptive, so the special Velcro practice golf balls stay right where you hit them. For pros or novices alike this game can quickly become addictive. It's great for school parties, corporate events, kid's parties, backyard parties, sports-themed parties, and more!
Game Objective
The Golf Challenge Game Objective is to see if you can shoot a hole in one by hitting the velcro golf ball onto the backdrop. The closest to the hole will win. You can play solo challenge where you have one at a time hit the ball or request extra balls if you want to have a challenge where you have multiple participants go and see who is the closest at the end of each round.
Easy to use Game Rentals
If you have ever rented a game rental before you know they can be sometimes difficult to know how to play or the rules of the game and honestly the easier the game and least complex the more fun you will have. We love that this game is easy to participate in regardless of ability there is a luck element in this as well as skill for some. Kids and adults will love taking a turn to see who can get the best shot! The great part is some of this can just be pure luck for kids of where they hit the ball onto and cause giggles and fun regardless of if they hit the hole or not. For adults and serious players, they can take aim and be more precise on where they are choosing to aim and land the ball hopefully around or on the hole and be able to measure who gets the closest to the hole in one.
Looking for Other Golf Game Options
We offer a variety of golf games for our golf enthusiasts and mini golf lovers! If you like golf and you want to be a little goofy go check out our Wacky Fun Mini Golf game rental.
How to book your Golf Challenge Carnival Frame Game Rental
Booking is simple as going on our website 24/7 and choosing the golf challenge game rental and adding it to your cart. Add the rest of the items you may want for your party as well and once your cart is full of everything you need, choose the complete cart and it will take you to the details we need to create the booking such as the date, time of your event, along with your event address, and surface type, along with a non-refundable 25% deposit we take at the time of booking (Don't worry if it falls under our weather policy for bad weather you can reschedule for a different date and apply your deposit to that date) :) and that's it. It's simple and easy, and of course, our friendly office staff is always here to support you whether you want us to finish up an order or just do it all for you we are happy to assist you. Just call our office at 717-650-7657 or email us at info@3monkeysinflatables.com and we will be happy to get you going on planning the best event ever!