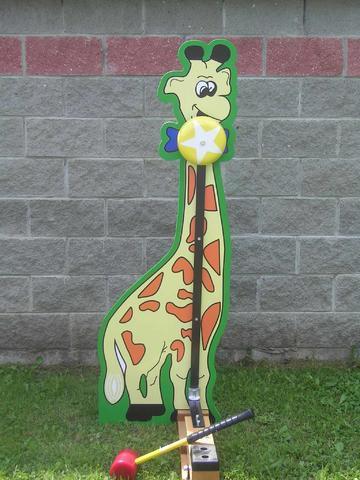 Giraffe Kiddie Striker




$119.00

Please call to reserve this item.

Giraffe Kiddie Striker Game Rental York Pennsylvania Area
3 Monkeys Inflatables is the provider of Game Rentals for all ages in Lancaster, Harrisburg, Hanover, Spring Grove, Dallastown, Baltimore, Towson, Millersville, Hagerstown, and surrounding areas in Pennsylvania and Maryland.
3 Monkeys Inflatables offers a variety of rental items that allows you to offer a ton of fun and many different activities at your next party! This striker carnival game has stood the test of time at theme parks and carnivals across the United States especially in York Pennsylvania where it is often showcased! The Giraffe Kiddie Striker will test both the skill and the strength of your guests. Children and adults love to play this hammer and bell game that gives them the opportunity to show off their strength! While it is similar to the popular carnival game, it is in fact smaller and somewhat easier for younger children to play. The Giraffe Kiddie Striker rings almost every time so kids will not walk away disappointed. You will want to be sure to make this part of your next party!

The Giraffe Kiddie Striker will definitely complete your school, church, corporate, birthday celebration, or fundraising event. Kiddos just love to hand their tickets over so that they can try to ring that bell. Keep in mind that adding incentives like candy or small prizes always makes them happy too!

Items that pair well with the Giraffe Kiddie Striker.
Don't let the fun stop at the Giraffe Kiddie Striker. Be sure to check out some of our other spectacular rental items like the Boom Blasters, Twister, Bowling Challenge, or maybe even Giant Operation! 3 Monkeys also offers Tent, Table, and Chair rentals which make us the perfect one stop shop for your party planning. If your party is in the warm, summer months think about adding a Dunk Tank, a Water Slide, or a Wet/Dry Combo Unit to keep your guests nice and cool. We also offer Misting Fans and Misting Tents to help cool your guests down. There is something fun for everyone here at 3 Monkeys. Occupy the kiddos with an inflatable like a Bounce House or an Obstacle Course and then grab a Giant Game or two for the Adults. Choose from Giant Checkers, Giant Jenga, Giant Corn Hole, Giant Horseshoes, and more!
How do I rent the Giraffe Kiddie Striker?
3 Monkeys offers different options to place your rental order. You can click the 'Add to Cart' button under any desired item to fill your cart. You can then proceed through the online checkout process where our system will ask you several details about your event. Please be sure to provide as many details as you can so that we can make your event go nice and smooth. Be sure to make your minimum, 25% deposit because this is what secures the rental items for your date. If you prefer to call one of our reservation specialists so that we can help you through this process, please call 717.650.7657. You can also email us at info@3monkeysinflatables.com with the details of your event and we can send you a quote or put your order through for you. We look forward to working with you for your next party!
Great Addition to any event!
Do you have the strength to ring the bell? 3 Monkeys Inflatables offers a classic carnival attraction that is a fun classic game that tests your strengths. This old fashioned ring the bell carnival game is a huge attraction for company picnics, block parties, school events, fun fairs, and festivals. Our Giraffe Kiddie Strikers are ideal for youngersters. Your party guests will laugh and have so much fun with the carnival game rentals. You can even include prizes for the ones who ring the bell! Small prizes, candies, lollipops are great prizes for this type of carnival game. Players swing the hammer onto launch pad to ring the bell. Ring the bell and win!
Young Kid Iron Man Fun
Giraffe Kiddie Striker Game Rental is the perfect item to add to your event to give the kids the sense of the strong man challenge where they can be proud and impress their friends as they are able to ring the bell in this strong man challenge made especially for little kids. Add this and other popular carnival games to have a fun time at your next party or event rental.