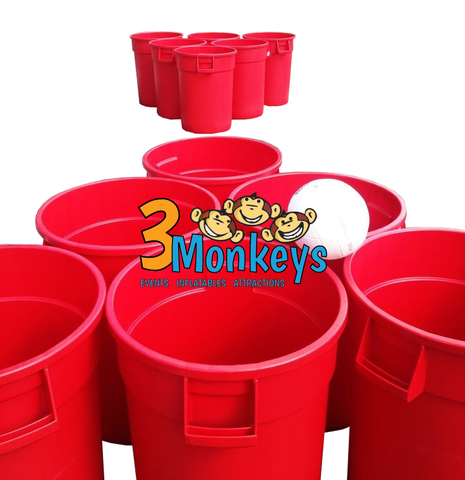 Giant Yard Pong




$99.00

Please call to reserve this item.

Giant YARD PONG 32-gallon Rental York, PA
3 Monkeys Inflatable
Rentals delivering to York, Harrisburg, Lancaster, Carlisle, Baltimore, Reading, Camp Hill, Wyomissing, Towson, Owings Mills, and more Pennsylvania & Maryland Cities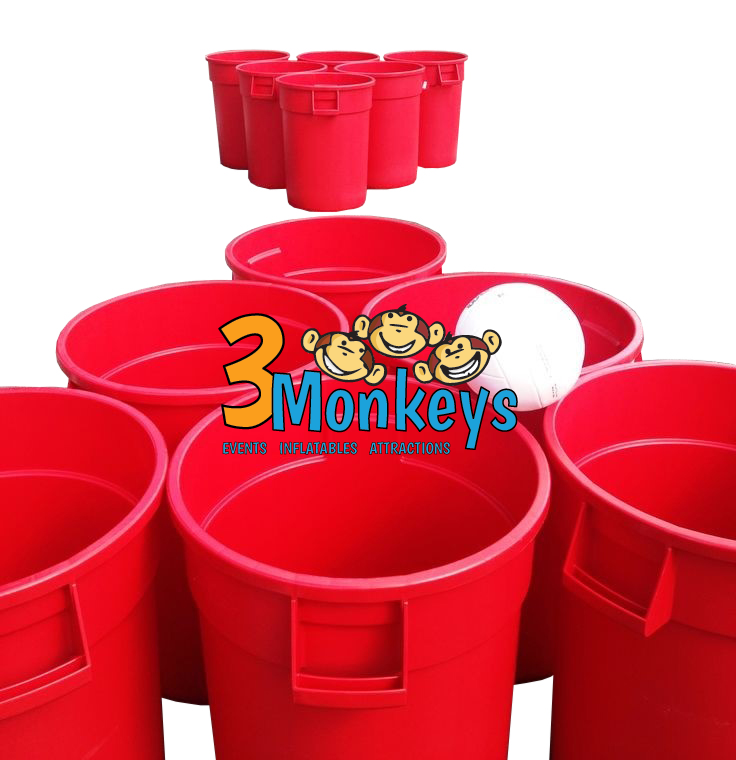 Giant Yard Pong
Giant Yard Pong is a Life-Sized version of Pong that you can now play at your next event or party rental! Take Table Pong to the next level with the thrill of our new Yard Game with extra-large red buckets and volleyball, you will play this game the same exact way you play Table Pong.
How do I play?
The object of the game is to either throw or bounce the ball into the other team's buckets and eliminate all of the other team's buckets before they eliminate all of yours. This is the perfect competitive game to WOW your employees at your next company outing! 3 Monkeys Inflatables brings the game rental fun to you. Giant Yard Pong is typically played with 2-4 players in teams. Simply fill your buckets 1/4 full with water, sand, or anything to weigh them down and you are ready to get the party started! Hours of fun and entertainment for everyone!
What comes with the rental?
The rental comes with 12 red buckets (solo cups) along with a soft volleyball for play. This is super portable and lightweight so setup and pickup are super fast from the time we drop off to the time we pick up. If you have questions about this game rental or any of our other Giant Games, Lawn Games, Concession, or any other event rentals give us a call at 717-650-7657 and we can help you with your order. This requires no power.
Perfect for any type of Party or Event Rental
Yard Games are perfect additions for all ages and types of events. The Giant Yard Pong Game Rental is ideal for activities such as parties, barbecues, block parties, grad parties, campgrounds, and corporate, and team-building 32-gallon events. This is a simple game with easy-to-understand play and flexible rules that make it suitable for adults, children, beginners, or intermediate players. It's fun to play and will be a great competitive game. Yard Pong is an easy add-on to create the perfect event setup for a small price to make a big splash!
How do I book?
You can book either by adding the Yard Pong along with any of your other Party rental items to your cart and simply adding your information when prompted when you complete your cart and put a 25% deposit down to reserve. You can also call our office at 717-650-7657 or email us at info@3monkeysinflatables.com. We look forward to helping you with your future order, and any questions you may have.
Service Area
We deliver to all of Central PA and Northern Maryland in popular cities like; Mechanicsburg, Enola, Camp Hill, New Cumberland, Hummelstown, Carlisle, Etters, Middletown, Hershey, Elizabethtown, Palymra, Annville, Lebanon, Myerstown, Steelton, Pine Grove, Duncannon, Jonestown, Halifax, Newport, Millersburg, Lewisberry, Mount Wolf, Lemoyne, Boiling Springs, Shermans Dale, Marysville, Dauphin, New Bloomfield, Mount Holly Springs, York Springs, Lykens, Millerstwon, Grantville, Fredericksburg, Elizabethville, Liverpool, Bethel, Tower City, Landisburg, Tremont, Williamstown, Loysville, Wellsville, Bainbridge, Highspire, Thomsontown, Grantham, Ellitosburg, Dalmatia, Wisconisco, Gratz, Summerdale, Cornwall, Maytown, Mount Gretna, Rehresburg, Struasstown, Plainfield, Emigsville, Muir, Pillow, Rheems, Lawn, Mount Aetna, New Kingstown, Campbelltown, New Buffalo, Quentin, Rossville, Ono, Perry County, Cumberland County, York County, Lancaster County, Adams County, Franklin County, Berks County, Schuykill County, Northcumberland County, Juanita County, Bucks County, and many more!
2