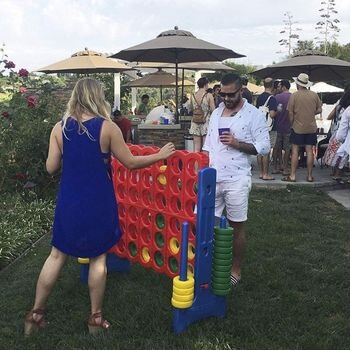 Giant Connect 4




$99.00

Please call to reserve this item.

Giant Connect 4 Rental York, PA
3 Monkeys Inflatable

Rentals delivering to York, Harrisburg, Lancaster, Carlisle, Baltimore, Reading, Camp Hill, Wyomissing, Towson, Owings Mills, and more Pennsylvania & Maryland Cities
Connect 4 in a row to be the winner. This combines strategy, skill, fun, and luck in this giant version of Connect 4. Guaranteed to be a hit for any birthday party, school carnival, corporate event, family reunions, after-school programs, daycare centers, college event, and more!
Classic Favorite Giant Game Rental
Everyone loves a good game of Connect 4 (even the dog apparently). Grab an opponent, pick the yellow or green playing pieces, (maybe play a good old game of rock, paper, scissors to see who goes first), and strategize your moves. Alternate turns, dropping a playing piece into the slot of your choice while trying to get four of your pieces in a row. But be careful! You are going to want to watch what your opponent is doing as well because you may need to block their next move as part of your strategy to win. When you get four in a row, be sure to shout out, "Connect 4," so that your opponent knows you won!
What other games could I get?
3 Monkeys has a variety of oversized games to choose from, all of which make fabulous additions to your party or event. It gives your guests just another option of something to do while at your event. The games all provide the opportunity for good, wholesome, family fun, and friendly competition. In addition to Giant Connect 4, choose from Giant Corn Hole, Giant Horseshoes, Giant Jenga, Giant Checkers, Giant Yard Pong, Giant Backgammon, Giant Scrabble, Giant Operation, Giant Battleship, and Giant Pick Up Sticks!
How do the rentals work?
Most of our rentals are for up to 8 hours long, except for our specialty rental items. We will ask you the start time and end time of your event and those are the times you will see on your invoice. The start time is the time your rental will be set up and ready for you, the customer, to use. The actual setup time will depend upon where you fit into our delivery schedule the day of your rental and we will provide you your set up time a day or two prior to your event. If you have other questions about our rental process please email us at info@3monkeysinflatables.com or call our offices at 717.650.7657.

To play: Take turns with your opponent dropping counters into the frame in any row you choose with the object of getting 4 in a row either diagonally, vertical or horizontally.

Designed for both indoor and outdoor use.

Dimensions are: 47.6L x 17.7W x 46H

Check out all our other game options available for your next event!