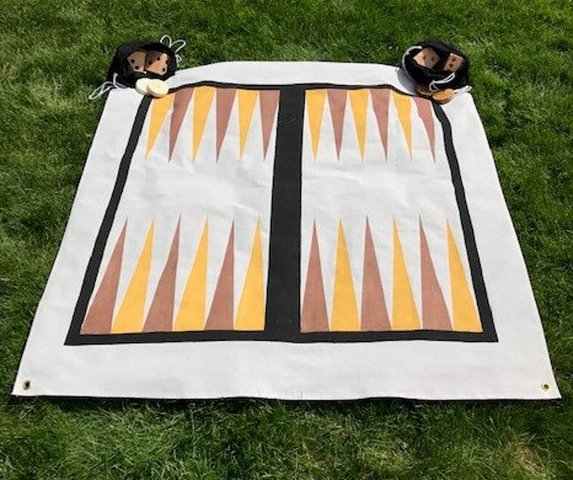 Giant Backgammon Game




$149.00

Please call to reserve this item.

Giant Backgammon Game Rental York, PA
3 Monkeys Inflatable

Rentals delivering to York, Harrisburg, Lancaster, Carlisle, Baltimore, Reading, Camp Hill, Wyomissing, Towson, Owings Mills, and more Pennsylvania & Maryland Cities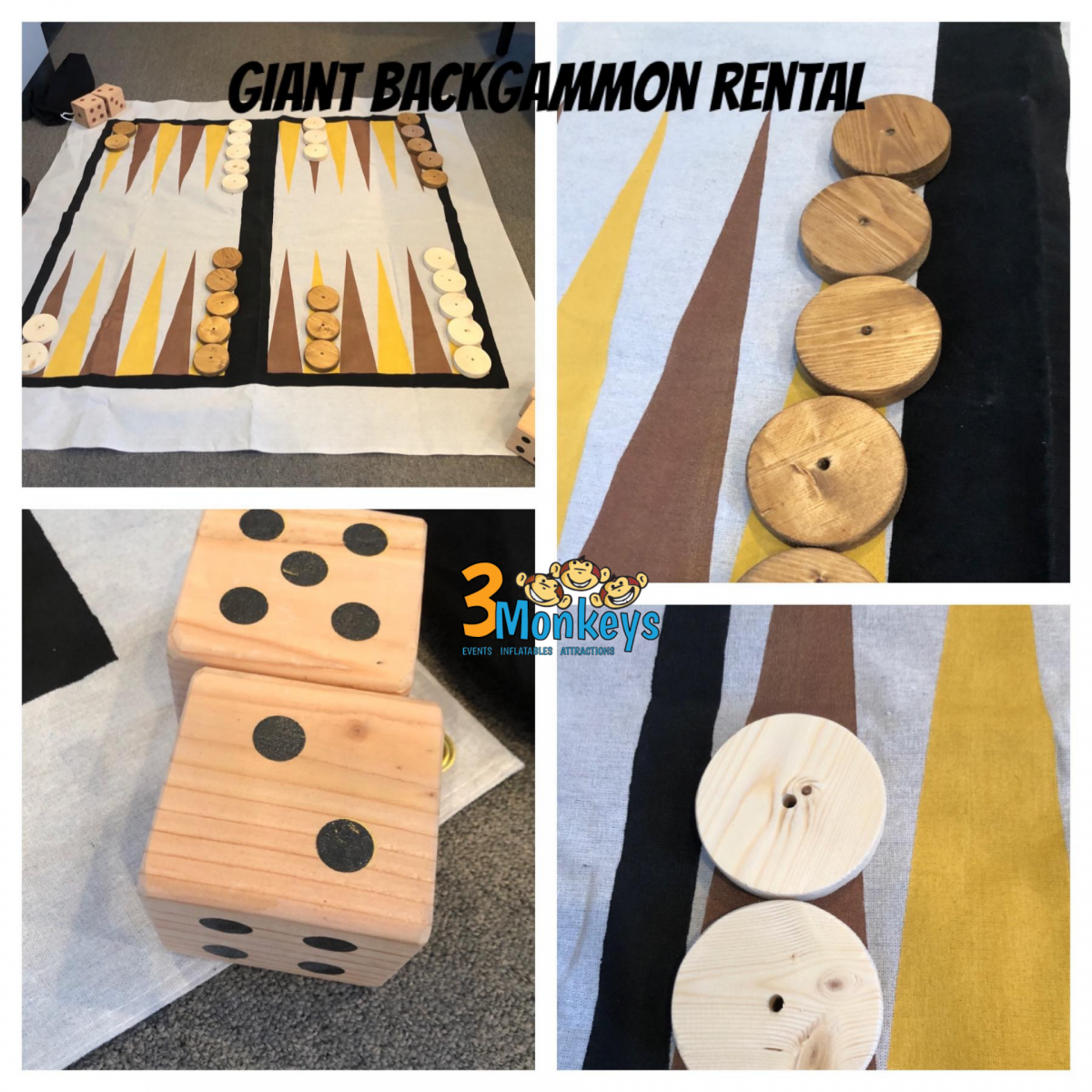 The giant backgammon game rental York, PA will make the perfect addition to your corporate event, backyard picnic, college event, church picnic, or corporate event.
Included with the Backgammon Game Rental:
- 5 x 5 Hand Painted Canvas playing board
- 30 Hand Stained and Sealed Wooden Stones (15 of each color)
- 2 Hand Stenciled Sets of Dice (4 total)
- Drawstring bag for each player's set of stones and dice sets.
- Carrying bag with a strap for the entire game
This comes also with grommets in corners so we may stake it if it is on the grass.
We can set up this scrabble in two different ways:
- Grass setup staked for you to sit around on the lawn and play this Giant lawn game
- Setup on (2) 6-foot tables with 2 chairs around for all players to sit at. We do have the table and chair rentals and you can book the (2) 6-foot tables by clicking HERE and the (2) black folding chairs by clicking HERE
Giant Backgammon Rental is also perfect for a church gathering, family get-togethers, school events, corporate events, and of course College events. What better way to get to know people than over a game of backgammon. This game takes outdoor lawn games to the next level. The pieces are made of wood and the canvas game board is of incredible quality. did you know that backgammon is considered the odes casino game? There is evidence by historians that it dates back as early as 3,000 BC. Next time you are looking to add wow and excitement and that just out of the ordinary get together to think about how 3 Monkeys Inflatables can deliver not only Inflatables, Games, Rock Walls, Mechanical Bulls, Euro Bungee, Virtual Reality, Escape Rooms, and more but they also deliver on the promise to be innovative, unique, and bring the newest and greatest new items from the industry to you locally.
Giant Backgammon Game Rules
Giant Backgammon Game Rental is played with two players, played on a board consisting of twenty-four triangles. The triangles alternate in color. The object is to win by moving your wooden stones to your home board and bear them all off.
How to Set Up Backgammon
To set up the game follow the diagram to the left on how to set up your home board.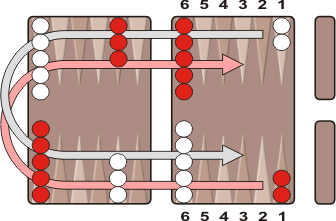 Both players roll one dice and the highest roll is who will begin the game first. The first player rolls both of their dice and now moves the stone of their choice according to the number shown on both dice. After the first roll, the play alternate turns moving their stones on each of their turns.
Throwing & Moving your Stones
The roll of the dice indicates how many moves the player can take with their stones. The stones are always moved forward in the direction indicated on the setup diagram.
Rules that apply while playing oversized backgammon
1. A stone can only be moved to an open point that is not occupied by two or more opposing stones.
2. The number on the two dice are considered separate moves. For example, if player one rolls a 5 and a 3, she may move one stone 5 spaces and another stone 3 spaces, or she can move the one stone the total of eight spaces.
Hitting
If you can move to a point on the board that only has one stone, then you can move to that spot and send your opponent