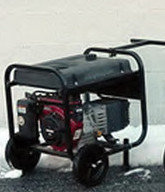 GENERATORS - Large




$155.00

Please call to reserve this item.

Generators - Large Rentals York Pennsylvania Area
3 Monkeys Inflatables is your Generator, and Tent Rental Specialists in York, Harrisburg, Lancaster, Camp Hill, Baltimore, Hagerstown, Towson, Dallastown, Red Lion, and surrounding areas in Pennsylvania and Maryland.
3 Monkeys Inflatables has generator rentals available to power your rental items. Our Generators- Large are our biggest generator available to rent through us and can provide you with up to 3 outlets and as much as 35 amps of power available. This allows you the opportunity to plug 3 blowers into this unit on one single generator. Keep in mind our generators are serviced prior to going out on a run and check weekly for oil and gas fill-ups. We take pride in our generators and realize you need reliable generators to power your event. We do provide a full tank of gas in each generator rental, and then we let our customers know it is your responsibility to have extra gas on hand and check it after about 2 hours of run time to ensure it doesn't need filling up.
This is something that every customer should know and understand when renting a generator. Keep kids/participants away from the generator. Never let anyone play near or on the generator. If you have a gas can of gas that you don't have it anywhere close to our generators as that is an explosion risk. We recommend that you keep your gas cans at least 50ft away from your generators.
BE PREPARED
1. Have extra gas can on site to fill the generator as needed.
2. Check Gas at least every 2 hours of run time to ensure it has enough gas for your event and what your powering.
If you are using all 3 outlets the gas will be used more quickly than running at a half rate with fewer items on the generator load.
3. Make sure to watch that no one is playing around or near the generator
4. Ensure that the cords from the generator to the blower are not tripping hazards and that kids are not playing on or around them.
5. Keep Gas cans at least 50 feet from the generator(s)
6. Do not put anything near the generator that can block the exhaust.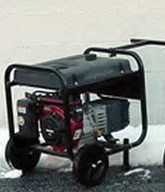 LARGE GENERATOR DETAILS
Generators 5500 Watt
Amps: 35
Outlets: 3 outlets max
RUN TIME:
1 tank will run for approx. 6-7 hrs at 50% load (one outlet used from the 2 outlets available) At full load (3 outlets used) it will run for approx. 3-4 hrs in total.
EXTRA GAS:
It is your responsibility to bring extra gas for the Generators, and to check that they are not running low.
LOAD:
These generators are rated for 35 amps max.
Outlets:

3 outlets max
CORDS:

If you are renting generators for use with our inflatables then you will have extension cords that come with our inflatables. If you are renting generators and using them on something else than our equipment please know you will need to supply your own cords or have the owner of the equipment supply their own cords and we would suggest at least 12 gauge cords to be used. Keep in mind we are not responsible for any downtime or equipment issues that come with using a generator since we do not own the equipment it is being used on. Also, we require you to have a fire extinguisher on hand in the event of a fire, along with extra gas.