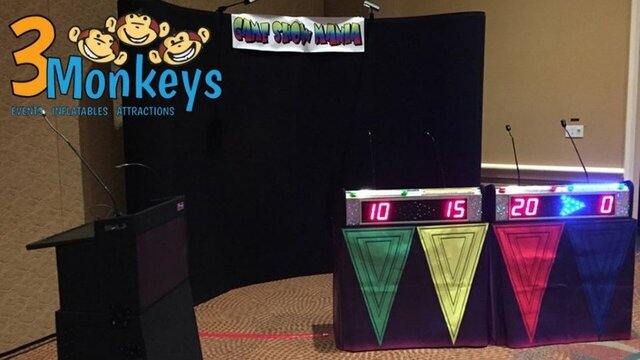 Game Show Mania




$699.00

Please call to reserve this item.

Game Show Mania
Game Show Mania is one of 3 Monkeys Inflatables' newest attractions that bring you and your guests' excitement of feeling like you on a tv game show. We provide a game host that will offer challenges to the "contestants" with questions on popular topics like music, sports, movies, and tv history. The game show will feature four contestants per game and the game is played in rounds, with a buzzer and digital scoreboard.
College and School Trivia Game Show Nights!
Game Show Mania is a high-tech game show system that comes with complete sound effects, digital scoring, and a real contestant lock-out system. We can use trivia books or create our own trivia questions. It is all electronic and the buzzers display each person's points. You have the full sound and color as if you were in the actual game show. Let us know if we can bring fun and excitement to your next event. Our game show systems are great for nightclubs & bars, resorts, cruise lines, corporate event planners, etc. Shopping mall & store promotions, reunions, bar/bat mitzvahs, and parties are a few of the event applications. The game show podiums are colored so you get a real feel of family feud game show rentals, traveling game shows, game show entertainment, and virtual game show games. Think about game show mania camp theme, and game show mania bingo, and maybe even a game show mania face off for college and universities to show off their stuff! Whatever your trend or spin on the game show mania we are sure to adapt it to your specific need and add a colorful fun host to make sure you have laughs and energy for your event!
How to book
Booking is easy! Simply drop the game show mania into the cart, add anything else you might need (Tables, Chairs, Giant Game Rentals, and more), and add your billing information and event address, check out with just a simple 25% deposit, and don't owe the remainder until the day of your event at setup! We will call you a few days before your event to confirm, and if you have questions beforehand, simply call our office (717) 650-7657, email us @ info@3monkeysinflatables.com or simply click the text feature and talk to us in real-time! We are here to help take the event planning off of your shoulders and rock this event out for you to create the perfect event! We rent game show mania in York, Lancaster, Harrisburg, and surrounding areas.
Game Show Mania perfect pairings!
Just like wine and steak go together well, we have some perfect pairings that go oh so well with our Game Show Mania! Our
Giant Games
are a great blend that goes well together for larger groups that are looking to have other activities going on while the game show is going on. Picture the game show on a stage or dedicated area in the room you are using. Picture seating around it for the audience with different activities on the outside of that chair area that is with the mindset of giving those who don't want to watch the game show or be part of the teams on the "stage" to have the ability to participate in other activities. We have many Giant Games that will fit this bill well for example our Giant Jenga,
Giant Scrabble Game Rental
,
Electronic Dart Boards
, Giant Battleship along many more to name a few favorites. We also have an amazing
Miniature Golf
opportunity to bring even more family-friendly or team-building games into play, with the best part is we have 9 full holes in a wood traditional mini-golf style and a 9 hole inflatable course for those who want the wow and crazy fun factor. If you have room outdoors or large indoor space we can add fun builders like Zorbs, Mechanical Bull, Roller Coaster Virtual Reality, and Bumper Cars, or for strictly outdoor space we can go big and add
Rock Walls
,
Escape Rooms
,
Axe Throwing Trailers
, and many another ultra-fun heart-stopping rental items that are designed to bring smiles across your event!