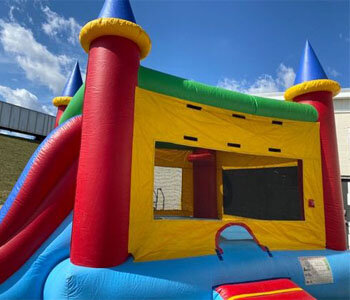 Fun Park Castle Combo




$269.00

Please call to reserve this item.

Fun Park Castle Combo
The Fun Park Castle Combo features a grand bounce house area with a basketball net so you can bounce in the bounce house area, or play basketball offering you more than just a bounce house rental. This Fun Park Castle Combo also features a slide on the side of the unit connected with steps that lead from the bounce house area to the top of the inflatable slide. This is a dry combo unit so it can only be used without water.
What's inside the Fun Park Combo?
The Fun Park Combo is a great sampling of many different elements that we rent in the inflatable party rental industry. You get the bounce house element to keep the kids busy and tire them out from all day long bouncing and playing with their friends. Added to the bounce house is a corner basketball net allowing for several kids to play basketball while bouncing in this bounce castle rental. Also is a small climbing wall to lead you to the dry slide rental and this really is a massive combo rental featuring that bounce n slide component that is sure to keep your kids excited the entire time of your party or event.
I have never rented before, what do I need to know?
Welcome to the Bounce House Combo rentals! We know you will love this popular choice in an inflatable rental because of the pairing of the bounce house, slide, and basketball it gives so much more than a traditional bounce house rental to parents and is a larger footprint. When you rent with 3 Monkeys Inflatables you get to choose 8 hours of rental fun that we guarantee we will have your inflatable items set up for. We may set up anytime from 7 am to your party start time and then we will come back from your end time up until possibly midnight that same day. There are some weekends when we are crazy busy and may need to drop off earlier the day before, or the day after for pickup. If you are having a party where that is not an option you can let our staff know. There is no additional charge if we add more time to leave it on your location at our discretion, however, if you want to guarantee you have it longer you can always add our overnight option that allows you to keep the rental overnight and play on it all night long until 8 am the next day. :0
Check out our awesome video featuring the Fun Park Castle Combo!