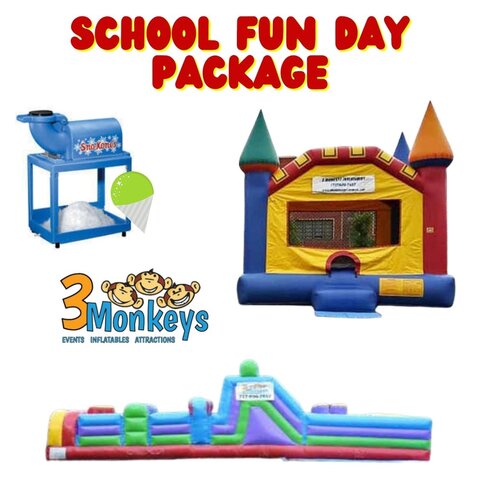 FUN DAY PACKAGE




$589.00

Please call to reserve this item.

Fun Day Package York Pennsylvania Area
3 Monkeys Inflatables is your Fun Day Carnival Package Specialist in Harrisburg, Lancaster, Hanover, Hershey, Reading, Millersville, Baltimore, Hagerstown, and Bel Air.
FUN DAY PACKAGE
The Fun Day Package is a great package that has all of the favorites for your next party or event with a bounce house, obstacle course, and concession item. This is a great package for a backyard party, small school event, open house, and any other smaller event. We have other fun packages available as well if you are looking for bigger or smaller packages, and of course, we can always customize any package you may need.
40ft Obstacle Course
The 40ft Obstacle Course Rental offers a non-stop fun competitive obstacle course that will entertain guests from young to old. This obstacle is a commercial unit that creates a fun race experience where 2 opponents race against each other in this inflatable that features pop-ups, crawl-thru, and obstacles throughout for you to dodge and weave while racing against your opponent.
15x15 Castle Bounce House
The 15x15 Classic Castle Bounce House is a large bounce house rental that can accommodate up to 8 kids at a time or 800 pounds, whichever you exceed first. The bounce house rental is a perfect way to have fun, and jump all day long! This is a timeless carnival-type ride that is a must-have at any type of party or event.
Snow Cone Machine Rental with servings for 30 guests
The Snow Cone Machine Rental is a great concession rental offering refreshment, cooling down, and fun for a hot summer day! We sell gallon syrups if you want to purchase them here.
This does not include any applicable sales tax or delivery charges.
FAQS
Q: Can we substitute any other items in this package?
A: Unfortunately, we cannot on this particular package substitute other items however we do have the ability to make you your own customized packages and send them to you in a quote. Simply provide our team with the details on the items you want for your package along with your event location, billing address, contact phone number, and email address, along with your name and date/times of the event. We will then provide you with a package or multiple packages depending on your request and send it over to you. We love working with your ideas and making them come into real life putting them into a package.
Q: Do you have other packages to offer?
A: Yes, absolutely! We have plenty of other packages to choose from including our Cake Rental Party Package, USA Party Package, Water Fun Package, Backyard Water Park Package, May Day School Carnival Package, and others!
Q: Where can I order this Fun Day Package to be delivered?
A: We deliver in Central Pennsylvania in the popular York Pennsylvania, Lancaster, Harrisburg, Hershey, Gap, Lititz, and many more.