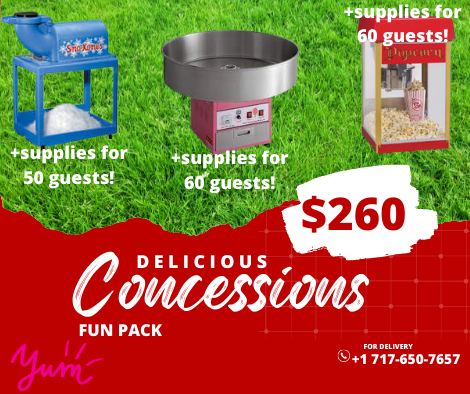 Fun Concession Package




$260.00

Please call to reserve this item.

Fun Concession Package
Rent Concessions in Pennsylvania and Maryland
Concessions are fun to have at any type of party or event. Bring those delicious smells into your party or event and your guests won't be able to resist the temptation to come over and explore what fun foods you are making. We provide the information on how to work the concession rentals, so it's easy as following the directions, making the fun foods, and enjoying them!
We make it easy to book with 3 Monkeys Inflatables by offering a Fun Food Concession Package with our 3 top concessions for rent. Pair these with your best inflatables, rock walls, ziplines, mechanical bulls, bumper cars, movie rentals, and so much more. They go well with just any type of party or event. So let's dig in and get these booked for your event today!
Everyone who is having a party, event, team building, or fundraiser love to smell those freshly made concessions that make them feel the carnival/festival type of feel. Nothing says party like the smell of popcorn or cotton candy in the air. On those hot summer days that refreshing snow cone or shaved ice is a must-have that just helps keep everyone cool. We often get asked how hard or easy it is to work the concession machines. Snow Cone and Shaved Ice machines are simple, as just making sure you have ice planned for someone to run out and get it and keep it either in a freezer or in a cooler. This is easy to make and serve and can be used for continuous cones, or you can make one, and done until someone else wants one. This is one of the easiest machines to work with! The Cotton Candy is our most complex of the Concession Rentals, but not by any means is it hard. We feature videos on youtube with directions on how to operate the cotton candy machine, and how to make the best of serving in a quick routine that we disclose in our youtube video. The key to cotton candy really has the person who is going to be running the cotton candy machine to familiarize themselves with the machine and arrive early for the event, watch the youtube video to see the tips we share, and then simply play a little and make some cones. The cones in most cases won't be perfect, but really who cares? You start to smell that cotton candy and guests will not mind what their cones look like, they just want to eat this highly contagious yummy sticky cotton candy! The Popcorn rental is also a simple machine to use. You do need to have scissors handy to open the package, but then it is just pouring the entire contents together of the package into the kettle and turning all lights on...once the popcorn has popped so much that it's overflowing out of the kettle it's time to flip the kettle and dump the popcorn. The great thing with the popcorn machine is that you can do that multiple times and fill up the machine, then turn off the motor and leave the warming light on only, and popcorn smells will entice your guests to come to fill a bag!