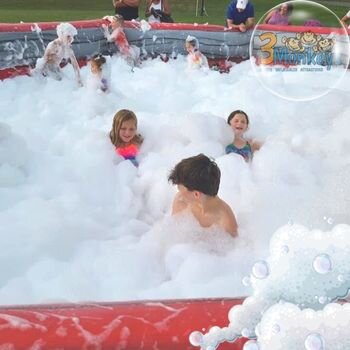 Foam Pit (Large) with Foam Machine - blacklight option available




$499.00

Please call to reserve this item.

Dive into Foam-Filled Excitement with Our Unforgettable Foam Party Experience
Unleash Your Playful Side in Our Foam Pit Adventure

It's time for a Foam Party!! 3 Monkeys Inflatables Foam Pit and Foam Party Machine Rental create the most amazing foam party!! Foam Parties 24 x 24 Octagon Shape that can accommodate up to 12 guests at a time. This rental comes with 2 packs of powder for up to about a 1 1/2-hour party. Extra Packs are $50 per pack (about 45 minutes run time each). We do need power and a water hose that reaches the area where you want the foam party machine to be set up. This foam pit does not come with an attendant unless you choose to order an additional attendant. Therefore, keep in mind you will be shown how to mix the foaming power and then we will leave the additional powder with you for the extent of your event to mix up as needed for longer parties.
Foam Party Rental
Do you want to have a party that will have your guests raving about the fun they had? Young children, teens, and adults can have a blast in our Foam Pit with our foam party rental! Crank up the music and make it a Foam Dance Party if you want! Or play some good old Marco Polo amidst the foam. Or simply meander your way around the pit through the clouds of foamy bubbles! Be sure to listen to the fun and laughter coming from inside the foam pit! Foam Pit Rentals are popular for foam runs, Jog-a-thons, Kid's Parties, Fundraisers, College Events, Church Events, Concerts, Pool Parties, Resort Events, and so much more! Foam Parties.
Tell me more about 3 Monkeys Foam Pit
3 Monkeys Inflatables Foam Pit and Foam Machine Rental will create the party! The octogen pit is 24 x 24 and can accommodate up to 12 guests at a time. This rental comes with 2 packs of foam powder for a 1 ½ party. Extra packs are available for $50.00 and have a run time of 45 minutes each. We will need power and a water hose to reach the set-up area. This foam pit does not come with an attendant unless you choose to add one to your order at an additional cost. Therefore, please keep in mind that you will be shown how to mix the foam powder and the additional powder will be left with you for the duration of your event and you will be responsible for mixing it up as needed. You might think if you rent the Foam Pit Rental that the foam is made from soap and water, so you will get cold, wet, and sticky. Although your clothes get damp, you typically never feel cold when you are in foam, it typically feels quite warm. It's odor-free and is sure to create attention and create loads of fun, and great pictures!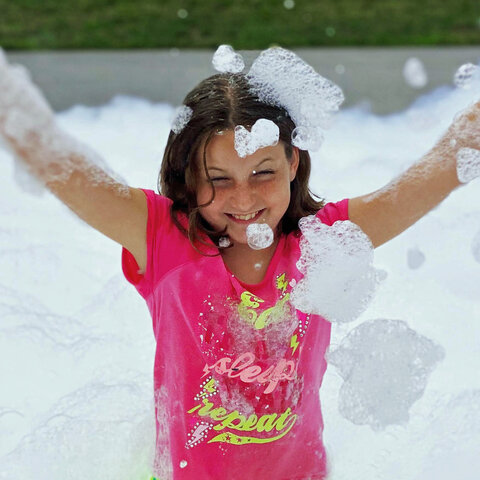 Now I need the foam pit for my event! How do I rent a foam party?
There are one of two ways you can secure the Foam Pit for your next party or event. You can call one of our event specialists at, 717.650.7657, and they will help you process your rental. Or you can scroll to the top of this page and simply click the button that says, 'Add to Cart' which will then take you through our checkout process. We do require a minimum of a 25% deposit which you can also do online or over the phone if you prefer. You will not regret choosing 3 Monkeys Inflatables Foam Pit to take your party to the next level! The foam pit has a blacklight option you may add for additional fees. Add a DJ and really get a dance party going, or rent our sound system for a cheaper alternative than a DJ and play your tunes from your device! Don't forget about our other rental items that pair great with this foam pit rental like our Water Slide Rentals, Dunk Tank Rentals, Misting Tents, Oxygen Bar Rentals, and many more!
Foam Party Delivery Area
We deliver foam parties in Central PA and Northern Maryland in popular cities like York, Lancaster, Harrisburg, Baltimore, Hershey, Reading, Hanover, Owings Mills, Towson, and many more!
shoptagr:installed