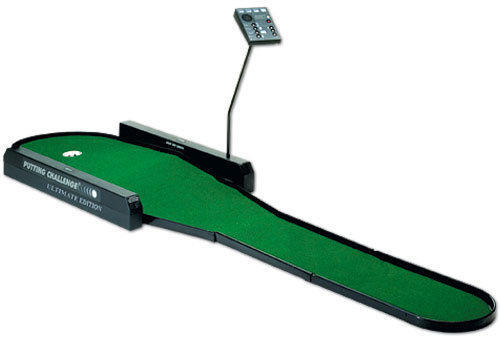 Electronic Putting Green Golf




$199.00

Please call to reserve this item.

Electronic Putting Green
NEW UNIT
Putting Challenge golf game is the truly ultimate edition indoor golf putting game and trainer. Putting Challenge Ultimate Edition allows you to practice putting at home for greatly improved scores in your golf game. This professional quality training tool is the most realistic putt simulator ever developed. Golfers can use Putting Challenge to practice shots on ever changing simulated greens to put themselves at the top of their game. The playing surface changes contours and slopes to simulate differences in greens encountered in real play. Putting is more than half your golf game and can make or break your score. Practice year round to build confidence in your game play and train your eye to read any green better than ever before.
Electronic Putting Challenge will not only entertain you at home and improve your golf scores on the course but it is also a phenomenal tool for parties, corporate events, and trade shows. Great fun for the family and the very best training tool for the serious golfer.
Allows over 72 electronically changing golf green contours automatically created by a patented breakthrough technology.
Four 18-hole courses on two skill levels (2 Amateur and 2 Pro).
Authentic Game Mode or challenging Practice Green Mode.
Computerized keypad displays/announces player's turn, hole number, penalty strokes, average putts-per-player, and even cheers for a hole-in-one.
Patented sensor system keeps score of every 1-, 2-, or 3-putt for up to 4 players on 9- or 18-holes.
Finest, most true-to-life putting surface rolls at 9.5 on the stimp meter.
Automatic ball return rolls the ball right to your feet after every putt.
Patented ball cup design offers the most realistic, level putting surface (without any incline).
Built-in 2 foot extension for up to 8 foot putts.
Wall outlet required.
Dimensions setup 118"L x 31"W x 38"H.