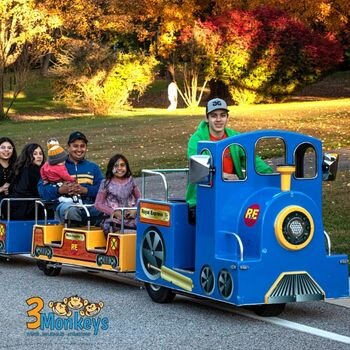 Electric Trackless Train Jr.




$599.00

Please call to reserve this item.

Electric Trackless Train Rental York

PA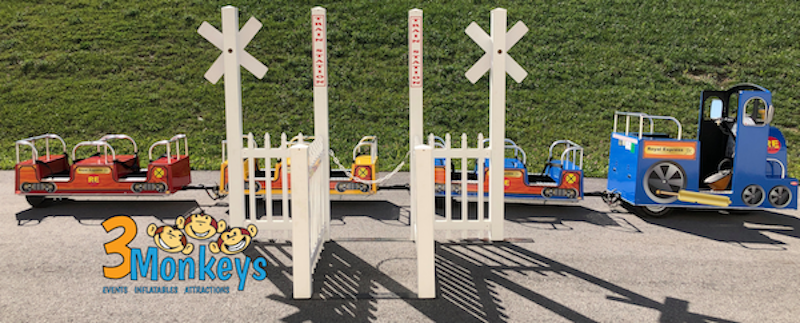 Bring the Magic of Trackless Trains to Your Events in PA & MD
About the Electric Trackless Train Rental
This electric drive trackless train jr rental can go indoors or outdoors. Its electric drive means no noise and no dirty exhaust. Let the fun begin at your next big event with train rides for children and adults alike with plenty of room and plenty of power. This train can run for long periods of time (up to 4 hours) and can go indoors or outside on grass or concrete. The 3 Monkeys Trackless Train jr ride has LED lights, a PA system to play your favorite music, and a classic train horn for a super ride experience. Bright colors and plenty of room for riders; 12 children or 6 adults and any combination in between. With 3 Monkeys Party Rentals, this train can come to your house for a birthday party, convention center, fair, festival, as well as your next big corporate event where you want a big wow with a great attraction! Bring a train rental to your next party. Trackless Train rentals are popular for birthday parties, train-themed parties, and first birthday parties. The trackless train rental is available in our home town of York County Pennsylvania or many cities that we service all across Central PA and Northern MD.
Experience the Magic
Our customers love our trackless train rentals! We have many positive reviews from our satisfied customers who enjoyed their rides with us. some of the great reviews on the train: It was huge hit with over 40+ kids!", "The items arrived on time and Gabriel was awesome at driving the train. Everyone enjoyed the train and service! Thank you!" So why wait? Book your ride today!
What is included with your train rental:
Train and 3 cars

Trained conductor/engineer

functioning railroad crossing sign
Preparing for the rental of the Trackless Train:
Be sure the area you are running the train is free of any debris.

The trackless train will not be permitted to go up and down any hills.

We cannot run the trackless train in rain or snow.

The trackless train is electric-powered so therefore it can be run inside or outside on preferred smooth surfaces

We can run a trackless train on grass however guidelines are set up strictly as follows to ensure a smooth event:

The grass area must be free of any debris

The grass area needs to be firm and free of excessive grade differences and bumps that would be considered excessive.

No rocks

The grass will need to not have had rain/snow on it for 24 hours minimum and not be muddy and soft.

We will need an area that is free of traffic and other safety concerns that we are running the train. We do not need to worry about traffic and cars coming in/out of any area just from a safety perspective.
Rental based on a

2 hour period

with additional hours charged at $125 each.
Indoor/Outdoor Fun
Whether you're hosting an indoor or outdoor event, our trackless train rental can accommodate both! Our electric trackless train is perfect for all types of events, no matter where they take place from indoors at a venue or gym, to outdoors in a parking lot. The only place we do not recommend is on unsafe rocky and bumpy surfaces, and where the train would need to navigate hills that we don't recommend, and would not be able to accommodate the hills.
Frequently Asked Questions about the Trackless Train for Rent:
Q: Can you rent a train for a birthday party?
A: Yes, a train rental is a great choice for a birthday party, or just about any type of event. The trackless train rentals don't require any trucks and can be operated on a lot of different surfaces. The train can ride on asphalt, cement, grass, and other paved surfaces. We do suggest you use the trackless train on primarily flat terrain. This will wear the battery down with a less flat area to run the train rental in. Each trackless train rental comes with an engine car that our trained conductor will operate, along with 3 cabooses.
Q: How does the trackless train work?
A: The Trackless Train Rental works from an electric motor that we plug in to charge prior to the event rental. We typically can run the train non-stop for up to 4 hours as long as the terrain is mostly flat. Check out this video with our trackless train in motion!