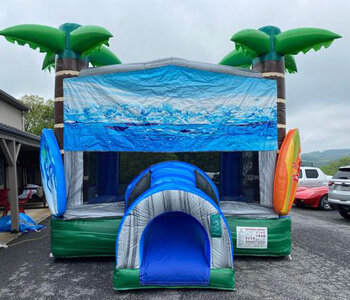 Cowabunga Misting Bounce




$259.00

Please call to reserve this item.

Cowabunga Misting Bounce House
Rent a Water Bounce House in Central PA and Northern MD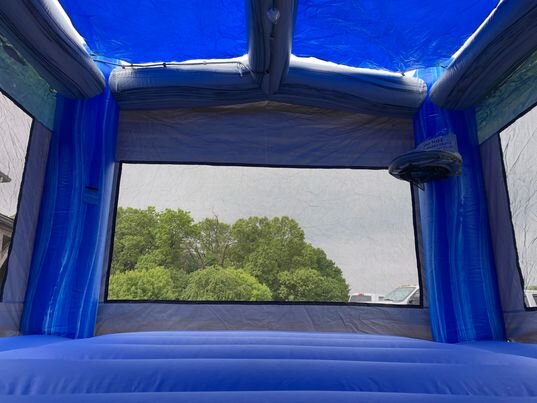 Cowabunga! Let's get this party started with our new Cowabunga Misting Bounce House. What does that actually mean for our customers? It means you get the simplicity of a bounce house rental and pair it with water and you get a Water Bounce House. Bounce House is awesome with a basketball, bounce house, and misting water system it is definitely going to quickly book out as this is great for backyard parties, birthday parties, graduation parties, community, and graduation events. Perfect to spend the day cooling down and jumping with some of your best friends! The Cowabunga Water Bounce House Rental has cute palm trees in the front of the bounce house with cute surfboards that will have you yelling Cowabunga! Pair that with the indoor basketball net, and misting system that will keep your participants cool the entire time of the party over the summer you will be delighted with this adorable bouncey house rental! This Cowabunga rental would be a great surfer bounce house for surf fans. It could also be great for a beach or Lua-themed bounce house party. Featuring a safe entrance step for entering and excitement, plenty of netted windows for airflow, and parents having the ability to see in at all times. It also features a covered top for shade and is approved for safety in Pennsylvania.
The cowabunga misting bounce is one of a kind 3 Monkeys Inflatables misting inflatable with the cooling water in the bounce house area with a non-slip floor is so great and refreshing. This is an added bonus to this misting bounce. Keep in mind this can be used as a dry combo, with this cute tropical themed bouncey house.
How to Rent the Cowabunga Misting Bounce House Rental
To reserve the Cowabunga Water Bounce House rental for your party, simply click the add to the cart button, select your date and time, and follow the prompts to complete your order with the required deposit. If you prefer to place your order talking to someone, please call our office to complete it over the phone with one of our friendly office staff. We would love to help you with your order. Simply call 717-650-7657.
Cowabunga Bounce House Information:
Size: 18'L x 14'W x 14'H
Participants: Can fit 6 kids or 180lbs each, whichever you exceed first.
Blower: (1), 7.5 amp blower