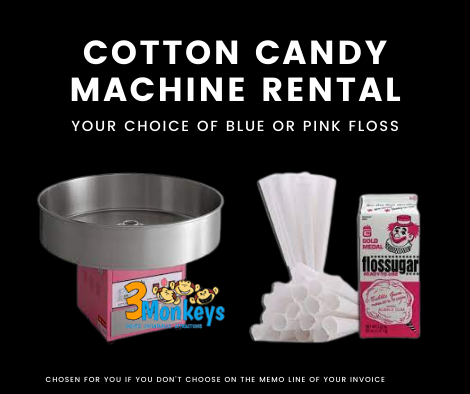 Cotton Candy Machine




$90.00

Please call to reserve this item.

Cotton Candy Machine Rental York Pennsylvania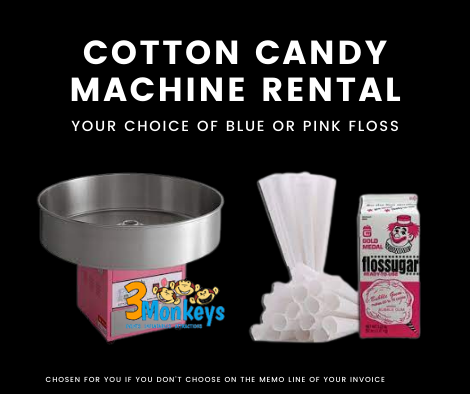 3 Monkeys Inflatables is your Cotton Candy and Fun Food Rental Specialist in Central PA in towns like Harrisburg, Lancaster, Hershey, Dallastown, Reading, and Baltimore Area.
Cotton Candy Machine
60 servings of your choice of color (red or blue) along with the sticks to spin a favorite carnival treat!!!
Serves 60. If you are interested in renting our concessions without an inflatable purchase please call our office or email us. The cost is higher as these concessions are available as a convenience to our inflatable customers.
Best Equipment Rental Option
The Gold Medal Cotton Candy Machine Rental is truly the best of the Cotton Candy Machine Rental brands and that is why we offer it at 3 Monkeys Inflatables. Cotton Candy Machine Rentals in York, Pennsylvania, and the surrounding area offer you concessions that attract customers with smell and flavor!
How to make Cotton Candy
Cotton Candy Rental York Pennsylvania is one of the best concession fun food rental items because it will attract customers with both smell, flavor, and your person who is making that delightfully yummy treat! Floss Sugar is poured into the machine's spinner head, where the heating element's job is to melt the floss sugar. The spinning mechanism pushed the sugar against the heating element, transforming the floss sugar into those tiny long strands. Always be sure to follow the operator instruction manual that will come with your cotton candy machine rental to ensure you are getting a proper cone.
Fill the floss head 90% full of Gold Medal Floss Sugar that comes with your machine rental (never use any other type of floss sugar or anything else into the machine) Do not overfill, and please do not add sugar while the motor is running. Follow the directions for power and heat controls. When the unit begins to make floss, select a paper cone and begin to roll the cone around the paper cone. Rotate the cone to wrap the floss.
Additional Cotton Candy Items
You can purchase bags for the Cotton Candy Machine Rental however keep in mind we do supply you with the cones and suggest you make them and eat them right away. The Bags can be great if you are making it ahead but beware sometimes humidity can create a sticky and melting situation for bagged cotton candy and if you can it's best to just make it as needed and supply traditionally on a cone. Extra servings of cotton candy floss can also be purchased.
We can also provide Light up Cotton Candy Cones that may be purchased separately through our company with advance notice. We do not keep the cones in stock, so we need ample time to get them in for your special order.
Requirements
Requires: 15 amp breaker
We prefer not to run an extension cord, however, we can run one 50 ft extension cord on this item IF needed.
Please be aware we do not allow anything other than our Gold Medal Floss to be used in our Cotton Candy Machines. If another floss or anything else is used this is against our rules and therefore you may be accessed with a replacement charge for a new machine. Keep in mind that we do not return any concession supplies due to food safety guidelines.
The price above does not include a 3 Monkeys Cotton Candy Attendant. It is the renters responsibility to make the cotton candy themselves or have a volunteer work this station. If you are in need of an attendant, while we cannot guarantee the availability, you certainly can inquire with our office staff to see if we have an attenant available for your event date to serve as a cotton candy attendant.