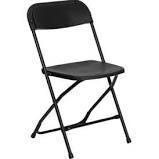 Chair Banquet - Black Folding




$1.50

Please call to reserve this item.

Black Folding Banquet Chair York Pennsylvania Area
3 Monkeys Inflatables is your chair and event rental specialist in Lancaster, Harrisburg, Hanover, Dauphin, Hershey, Baltimore, Hagerstown, and surrounding areas.
Event Seating
Comfortable, attractive, and durable, Folding Chair is an excellent addition to any party or event. Invented in the 1960s by the Samsonite Corporation, this plastic folding chair is timeless in its design and functionality. The Samsonite plastic folding chair is the most popular and lightweight folding chair on the market. Reinforced with 20 gauge annealed tempered steel. A reverse double-riveted cross-brace adds stability with non-marring foot caps to prevent unwanted floor scuffs. Samsonite is the brand that helped shape the party rental industry. Each chair weighs in at an unbelievable 6.5 lbs and is certified to sustain a live weight of 300 lbs. The seat and back are made from polypropylene for extra durability. The frame is powder-coated for protection against scratching and wear.
What to expect at delivery:
When we deliver your rental chairs we will bring them and place them in the location you are wanting them in, however, we do not set them into place. This is customer responsibility. If you want you can order our chair setup and takedown service for each table and chair you order (for example if you order 12 chairs and 3 tables you will need 15 of the setup/take-down service). You will pick your event setup and pickup times and we will guarantee we will have your tables and other event items there by that time, however, we do not set up the time of delivery/pickup until a few days prior to your rental. Our delivery scheduler will set up your time to ensure they are thereby your start time and not before your end time. A typical rental is for up to 8 hours, however sometimes due to scheduling conflicts our scheduler might request to drop off early or pick up later. Please let us know if there are any conflicts for you at the time of booking so we can put it in the notes for the scheduler.
Do 3 Monkeys offer concessions?
Absolutely! Who does not love the smell of freshly popped popcorn or freshly spun cotton candy? As soon as you start making concessions the guests will flock to your table to grab up their goodies! Our concession rentals make for great party add-ons for your event. Choose from popcorn, cotton candy, shaved ice, sno-cones, or mini-fair donuts (yum!). What about bringing back the nostalgia of pixie sticks? Rent our pucker powder mini machine that allows your guests to fill their own tube with the sugar flavors of their choice. If you are looking for tents, tables, and chairs we can be your one-stop-shop. Call us today to build your ultimate party package!
How to make your reservation with 3 Monkeys.
3 Monkeys offers a few ways to secure your rental choices. If you wish to make your reservation online simply click 'add to cart' on the item pages of the rental items, you want to have for your event. Once you fill your cart proceed through the online checkout process. It will ask you to choose the date and times of your event. Please make sure you are listing the start time and the end time. This will not be your delivery and pickup times. Before completing your order, you will be required to make a minimum deposit of 25%. This deposit will be subtracted from the total balance. It is not in addition to the total. Another way of ordering is by calling one of our reservation specialists at 717.650.7657. We will help collect the details of your event and get you booked over the phone. Lastly, you can email us at any time at info@3monkeysinflatables.com. Simply provide the details of your event, the delivery address, and the items you wish to rent, and we will send you a quote. Choose whichever reservation option best fits your needs.
10312411