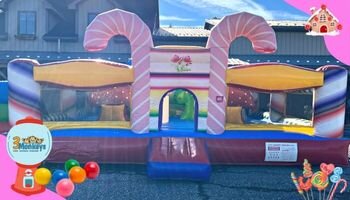 Candy Play Land Toddler Combo
Actual Size: 17'L X 19'W X 11'H





$269.00

Please call to reserve this item.

Candy Play Land Toddler Combo
Inflatable Playground for Toddlers in Central PA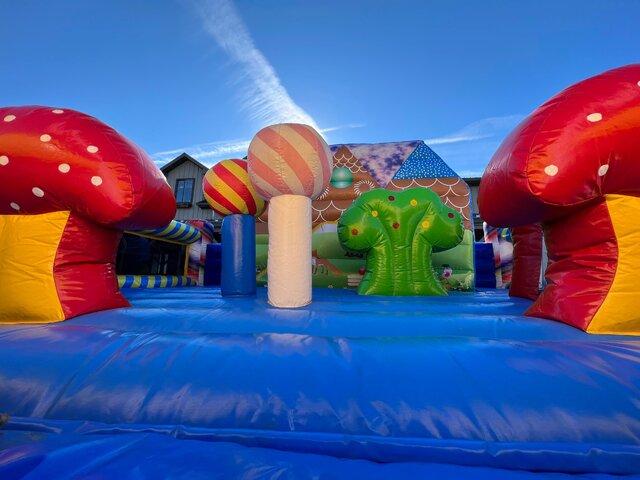 Now featuring our Candy Play Land Toddler Combo rental. Toddler bounce house rentals are so popular that we have added another option for customers to choose from when planning a party or event where they are looking to keep the little ones busy and having fun just like the older children are! Toddler Combo rentals are appropriate for children ages 6 and under but are really perfect for ages 4 and under. Perhaps the little ones are not quite ready to jump in a bounce house with the intimidation of older children or in an enclosed space. Toddler inflatables have an open feel to them where riders can see their parents and parents can see them. This tends to give younger children a sense of comfort and they are then more likely to explore and have fun.
The picture featured to the left is the view that small children have as they climb through the entrance of the Candy Play Land Toddler Combo. Just look at that sea of blue bouncing space. And, there are so many colorful pop-ups that they won't know where to head first once they are inside the toddler play land! Trees, mushrooms, lollipops, gumball machines, and a gingerbread house are all found within this fun toddler bounce house.
Features of the Toddler Candy Play Land
The Candy Play Land Toddler Combo is so colorful and inviting that children will be racing to enter this little land of sweetness. This toddler bounce house measures 17'L x 19'W x 11'H, and can accommodate up to 8 children at a time. Little climbers are greeted at the entrance by giant, inflatable candy canes, and will be absolutely 'wow-ed' by the candy they see everywhere when they enter. And get your camera ready, because you are going to want to capture the size of their eyes when they see all of the different pop-ups. There are also a few pop up, inflatable lolli-pop trees that serve as an introduction to obstacle course inflatables because children will need to maneuver their way around them to see what else there is to discover in this land of candy-filled fun. And last but not least, do you see the little gingerbread house in the center, towards the back of this toddler combo? That presents toddlers with the opportunity to use their fine motor skills by climbing a small ladder which takes them to the top of a slide, where they will glide to the bottom and want to do it all over again. Kids are going to have so much fun in this candy-themed combo that you just may find yourself bribing them with a sweet treat to get them to come back out.
Obstacle Course Features in the Candy Play Land
The other great thing about toddler combos is that they often have features that can help prepare younger children for not only the next step up, a bounce house, but for obstacle courses. Included in the design of toddler inflatables are obstacle features in a smaller scale. For example, in a toddler unit you may find small cutouts for children to crawl through. As they get older and move on to an inflatable obstacle course, those small cutouts will become longer, crawl through tunnels. In this particular toddler combo you will find a small ladder that leads them to a small slide. In obstacles you will have larger climbs with larger slides. And lastly, in bounce house combos for toddlers there are small, colorful, kid-friendly pop ups that they will have to go around in order to see what else there is to explore. When they advance to a large obstacle course there are many, large pop ups throughout their climb, in an attempt to slow down their progress, that will challenge their agility as a rider. A similar unit is the Animal Kingdom Toddler Inflatable.
How do I go about renting the Candy Play Land for my party?
We offer several different ways of booking your toddler inflatable rental for your party. You have the option to book online using our 24/7 live calendar, calling our office staff where they can take all of your information and deposit over the phone, or you can email us some of the party details so that we can get you started with a quote which will have a link on it that will allow you to complete the booking process online. Our rentals are for up to 8 hours long, so when booking we do ask that you give us the start time of your event, not when you want it delivered. We cannot guarantee any specific delivery times, but what we do guarantee is that your party rental equipment is delivered and set up by the party start time. When it comes to delivery we ask that you have flexibility for our scheduling purposes, that if we have to set up a day or two in advance or take it down a day or two after the event, we have the ability to do that. What is a very 'behind the scenes' aspect to this business is routing trucks and getting 40 or so rentals out to everyone on time. It's just not possible to do in one morning, which is why some rentals may need to be dropped off a day or so prior to the party. You may be worrying because your event isn't at your home, and you don't have the ability to provide this flexibility for scheduling. In order to accommodate customers who may find themselves in this situation we have implemented a $100 fee. This fee will guarantee that the scheduler designs the schedule so that a truck is designated to your delivery and pickup on the same day, with a 3 hour window on each end of drop off and pick up. If you still have questions about scheduling times please contact our office at 717-650-7657.
Delivery Cities
We deliver and set up inflatable party rentals to York, Lancaster, Harrisburg, Brogue, Airville, Stewartstown, Glen Rock, New Freedom, Manchester, Mount Wolf, Spring Grove, Columbia, Hempfield, Landsiville, Millersville, Lititz, Manheim, Brownstown, Ephrata, Mechanicsburg, Carlisle, Camp Hill, Baltimore, Bel Air, Freeland, Whiteford, Pylesville, Street, Fallson, Forest Hill, and many other Central PA and Northern MD cities. If your city is not listed above that doesn't mean we don't deliver there so please call our office to find out what the travel fee is to your particular city.